Food Wars! Volume 6 manga review
By Leroy Douresseaux
June 1, 2015 - 11:15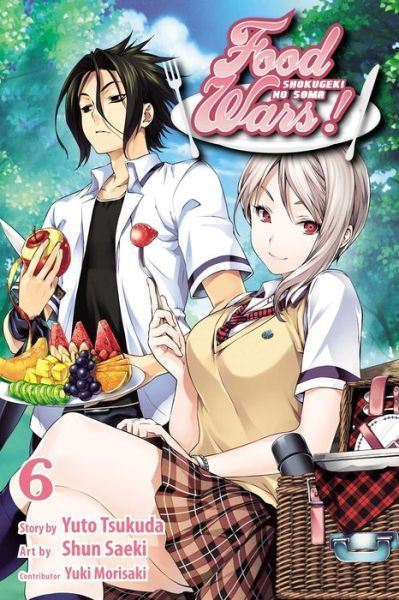 Food Wars Volume 6 cover image is courtesy of barnesandnoble.com.
Rated "T+" for "Older Teen"
Soma Yukihira
grows up cooking in Yukihira Family Restaurant, owned by his family and located on the less attractive side of town. The 15-year-old boy wants to be a better chef than his father,
Joshiro Yukihira
. So the teen hones his skills day in and day out. Then, his father suddenly decides to enroll Soma in a classy culinary school,
Totsuki Saryo Culinary Institute
. Soma does not believe he needs to go to school, so can he really succeed in a place that prides itself on a 10 percent graduation rate?
As
Food Wars!: Shokugeki No Soma

, Vol. 6
(Chapters 40 to 48; Memories of Battle) opens, another semester is over. And it's time for summer! Before the students leave however, the announcement of which students will be allowed to participate in the "
Fall Classic
" is made. Will both Soma and his erstwhile sidekick,
Megumi Tadokoro
, be chosen to participate in the important school event?
Summer doesn't start without a big surprise, however. Someone arrives to pay a visit and to wow the students of
Polaris Dorm
with his amazing dishes... and to challenge a certain someone to a cook-off.
[This volume includes a side story: "Miss Nikumi's Midsummer Fun."]
THE LOWDOWN:
Damn I'm hungry. I don't think the apple and banana that I'm going to eat after writing this will match up to the delicious dishes served up in the latest volume of the
Food Wars!
manga. After six volumes and 48 chapters, I am hungrier than ever to read this delightful shonen, high school, foodie comedy.
Food Wars!: Shokugeki No Soma Volume 6
is ripe with the smells of familiar and exotic spices, especially curry – at least my imagination thinks so. I always let loose a guffaw when I watch the ecstasy the characters experience when tasting and eating that which is both delicious and inventive. Artist Shun Saeki's depictions of taste bud-gasm is always a delight, and so is Food Wars!
POSSIBLE AUDIENCE:
Hungry readers will want the Shonen Jump Advanced title,
Food Wars!: Shokugeki No Soma
, on their book list menu.
Rating: A /10
Last Updated: August 31, 2023 - 08:12