Food Wars! Volume 5 manga review
By Leroy Douresseaux
April 8, 2015 - 21:40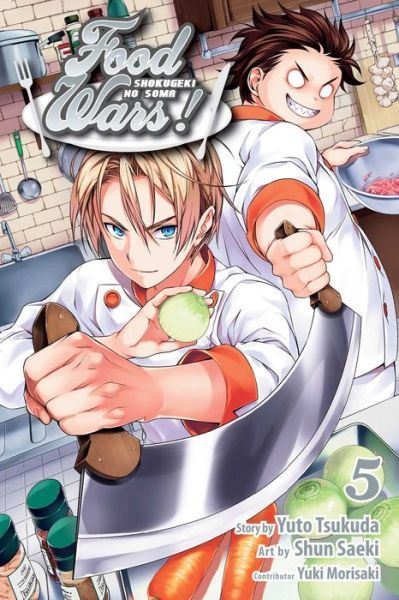 Food Wars Volume 5 cover image is courtesy of barnesandnoble.com.
Follow me on
Twitter
.
Rated "T+" for "Older Teen"
Soma Yukihara
grew up cooking in his family's restaurant,
Yukihara Family Restaurant
, which is located on the less attractive side of town. The 15-year-old boy wants to be a better chef than his father,
Joshiro Yukihira
. So the teen hones his skills day in and day out. Then, his father suddenly decides to enroll Soma in a classy culinary school, T
otsuki Saryo Culinary Institute
. Soma does not believe he needs to go to school, so can he really succeed in a place that prides itself on a 10 percent graduation rate?
The first year students at Totsuki Institute are at
Totsuki Resort Hotel
, but they aren't there for a break. It is time for the "
Friendship & Team-building Cooking Camp
," and the students must cook as if their very lives and futures depend on it, which they do. The threat of instant expulsion hangs over the students, as the staff at the resort name and judge the dishes that the students must prepare.
As
Food Wars!: Shokugeki No Soma

, Vol. 5
(Chapters 31 to 39;
The Dancing Chef
) opens, the camp comes to an end with final assignments. The students must invent a new buffet-style dish worthy of appearing on the high-class Totsuki Resort's breakfast menu. However, Soma has made a crucial error in preparing his dish. Now, he has 30 minutes to create 200 servings of a new dish... or fail!
In the multi-chapter "Fantastic Fried Chicken," Soma returns to the Yukihara Family Restaurant, which is closed while his father is away. Soma stops by the restaurant to air out the place. However, he discovers that the restaurant's location, the
Sumire Street Market
, is suffering because of a nearby in-station mall, in particular "
Mozuya's
," which is known for its award-winning friend chicken. Now, Soma joins
Ikumi "Nikumi" Mito
(a classmate from the Totsuki Institute) and
Mayumi Kurase
(a former junior high classmate who has a crush on him) to create fantastic fried chicken that can beat Mozuya's. But can they really beat fried chicken that even they totally love?
[This volume includes a side story.]
THE LOWDOWN: After four volumes and 30 chapters, I declared the
Food Wars!
manga to be one of the best shonen comedies offered to North American readers. After five volumes and 39 chapters, I declare
Food Wars!
to be one of the most delicious comic books on the market.
I hate it. I love to read it, but I hate that my mouth waters almost the entire time that I am reading it. I embody the stereotype of African-Americans loving fried chicken genetically and historically. I could have eaten the pages that comprise the "Fantastic Fried Chicken" chapters. I love this manga, and I want you to enjoy this meal, also.
POSSIBLE AUDIENCE:
Fans of foodie manga and of shonen comedies will want multiple servings of the Shonen Jump Advanced title,
Food Wars!: Shokugeki No Soma
.
Last Updated: August 31, 2023 - 08:12