Food Wars! Volume 4 manga review
By Leroy Douresseaux
February 4, 2015 - 20:08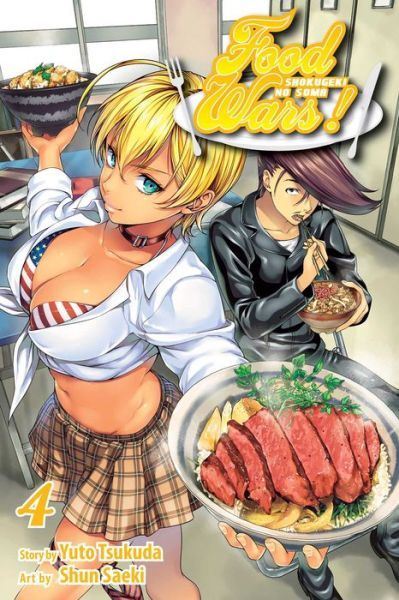 Food Wars Volume 4 cover image is courtesy of barnesandnoble.com.
Follow me on
Twitter
.
Rated "T+" for "Older Teen"
He grew up cooking in his family's restaurant, Yukihira Family Restaurant, which was located on the less attractive side of town.
Soma Yukihira
is a 15-years-old boy, and he wants to be a better chef than his father, Joshiro Yukihira. So the teen hones his skills day in and day out. Then, his father suddenly decides to enroll Soma in a classy culinary school,
Totsuki Saryo Culinary Institute
. Soma does not believe he needs to go to school, so can he really succeed in a place that prides itself on a 10 percent graduation rate?
The first year students at Totsuki Institute are at
Totsuki Resort Hotel
, but they aren't there for a break. It is time for the "
Friendship & Team-building Cooking Camp
," and the students must cook as if their very lives and futures depend on it, which they do. The threat of instant expulsion hangs over the students, as the staff at the resort name and judge the dishes that the students must prepare, at the risk of expulsion from the institute.
As
Food Wars!: Shokugeki No Soma

, Vol. 4
(Chapters 22 to 30; entitled
Resemblances
) opens, Soma and 15-year-old
Megumi Tadokoro
must cook to stay in school. Megumi was expelled after one of her dishes displeased a judge. Soma challenged that judge, graduate
Chef Kojiro Shinomiya
, to a shokugeki, a cooking duel.
Now, Soma and Megumi must prepare a dish as a team against the acclaimed, award-winning, supernaturally-skilled Chef Shinomiya. If Soma and Megumi win, they both stay in school; if they lose... However,
Gin Dojima
, director and head chef of the Totsuki Resort Hotel chain, has levied a condition in the shokugeki that may finish Soma and Megumi before the duel begins.
THE LOWDOWN:
After four volumes and 30 chapters, I still declare the
Food Wars!
manga to be one of the best shonen comedies offered to North American readers. It is also one of the best comics on the market.
Japanese comics creators (mangaka) have mastered the art of culinary and food-based comic books. They are delicious, and as,
Food Wars!: Shokugeki No Soma Volume 3
shows, wonderful reads. With this volume, creators
Yuto Tsukuda
(story) and
Shun Saeki
(art) match riveting culinary clashes with plenty of recipes. If only these "recettes" were as easy to prepare as this manga is to read.
POSSIBLE AUDIENCE:
Fans of foodie manga and of shonen comedies will want multiple servings of the Shonen Jump Advanced title,
Food Wars!: Shokugeki No Soma
.
Rating: A /10
Last Updated: August 31, 2023 - 08:12