Food Wars! Volume 3 manga review
By Leroy Douresseaux
December 4, 2014 - 21:13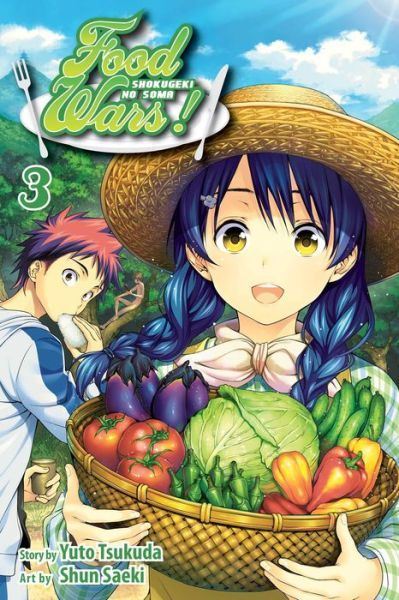 Food Wars Volume 3 cover image is courtesy of barnesandnoble.com.
Follow me on
Twitter
.
Rated "T+" for "Older Teen"
Soma Yukihira
is a 15-year-old boy who grew up cooking in his family's restaurant,
Yukihira Family Restaurant
, which is located on the less attractive side of town. He wants to be a better chef than his father, Joshiro Yukihira, so the teen hones his skills day in and day out. However, his father suddenly decides to enroll Soma in a classy culinary school,
Totsuki Saryo Culinary Institute
. Soma does not believe he needs to go to school, so can he really succeed in a place that prides itself on a 10 percent graduation rate?
As
Food Wars!: Shokugeki No Soma

, Vol. 3
(
The Perfect Recette
; Chapters 15 to 21) opens, the first year students at Totsuki Institute head to Totsuki Resort Hotel. They aren't there for a break; it is time for the "
Friendship & Team-building Cooking Camp
."
The threat of instant expulsion hangs over the students, and the unveiling of the teachers responsible for judging the dishes that the students must prepare only makes things worse. Can Soma and the rest of the
Polaris Dormitory
crew prepare each anxiety-inducing
recette
(recipe) thrown at them?
[This volume includes a bonus story, "Your and My Romance Counseling," and a bonus side story, "Cuoco in Italia."]
THE LOWDOWN:
After three volumes and 21 chapters, I will declare the
Food Wars!
manga to be one of the best shonen comedies offered to North American readers. So much about it is hard to resist. I cannot help but laugh at the scenes that depict the ecstasy judges experience when tasting a perfectly prepared dish.
Food Wars!: Shokugeki No Soma Volume 3
showcases creators
Yuto Tsukuda
(story) and
Shun Saeki
(art) talent for turning any setting into an exciting battlefield where we can witness a riveting culinary clash or test of cooking prowess. The first test, in which students must use only ingredients that they can find on resort property, is a wonderful story with a magical Disney-esque quality and a reality show competition edge. I want many more servings of Food Wars.
POSSIBLE AUDIENCE:
Fans of foodie manga and of shonen comedies will like the Shonen Jump Advanced title,
Food Wars!: Shokugeki No Soma
.
Last Updated: August 31, 2023 - 08:12