Flower in a Storm: Volume 1
By Leroy Douresseaux
April 21, 2010 - 14:15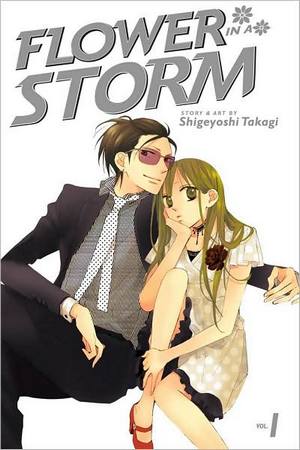 Flower in the Storm Volume 1 cover image courtesy of barnesandnoble.com.
Rated "T+" for "Older Teen"
Riko Kunimi is determined to live the life of a normal high school student. Why? Once upon a time, a boy Riko liked refused to date her because she has super powers. Since then, Riko goes out of her way to avoid anything that makes her abilities stand out. Then, 17-year-old Ran Tachibana, the richest and most powerful teenager in Japan, bursts into her classroom and demands that Riko be his wife. He has a gun and won't take no for an answer. There's goes normalcy!
In Flower in a Storm, Vol. 1, Ran challenges Riko for her love. The first day he appears, he tells her that if she can avoid his clutches by five o'clock the next day, he will leave her alone. Who said she wanted to have a contest with him? Anyway, as much trouble as he causes for Riko, Ran has troubles of his own. Someone has sent as assassin, knows as "Redhead," to kill him.
THE LOWDOWN: The art is very pretty. The page design features panels of various sizes and shapes which are eye-catching and also captures the beautiful backgrounds, sets, tones, and effects that make this book visually splendid. The drama and romance, however, are soft.
This doesn't seem like the typical "Shojo Beat" title when it comes to high school romance. Flower in a Storm lacks the dramatic weight of stories about young love. The yearning, the self-doubts, the struggles, the plotting, etc., none of that is here. This feels like one of those breezy action comedies that are romantic mainly because there is a guy (the action hero) and a girl (who is arm candy). While I read this, the upcoming Tom Cruise-Cameron Diaz movie, Knight & Day, often came to mind. Flower in a Storm has potential, but the potential to be what, I don't know.
POSSIBLE AUDIENCE: Shojo Beat readers looking for action comedy may find it in Flower in a Storm.
B-
Last Updated: August 31, 2023 - 08:12