Flight: Volume 6 (Anthology)
By Leroy Douresseaux
Jul 20, 2009 - 8:30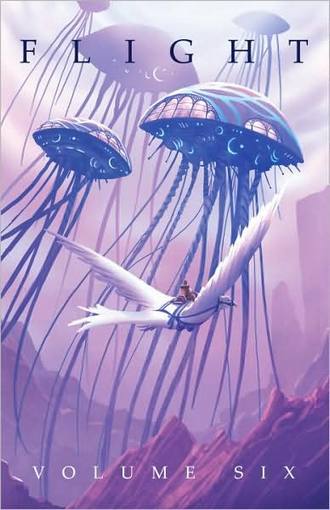 Flight Volume 6 cover image is courtesy of barnesandnoble.com.
Flight: Volume 6 is the latest edition of the comics anthology edited by Kazu Kibuishi and featuring the work of a wide range of cartoonists and comic book creators. Flight's creators work in the animation industry (for major studios like Pixar and DreamWorks), are emerging web cartoonists and webcomics creators, and are also established comic book and graphic novel creators. Flight was launched in 2004 at Image Comics (which published the first two volumes) before moving on to Villard Books.
The stories in Flight generally reflect the creative "flights of fancy," in which the inventions of daydreams and wandering imaginations are fashioned into comics. The stories in Flight: Volume Six are imaginative but seem less inventive or ingenious. The latest volume is a grab bag of genres, storytelling methods, and graphics.
Flight: Volume 6 contains an episode of Michel Gagné's Moebius-like, The Saga of Rex, entitled " Soulmates." That story stands in sharp contrast to "The Excitingly Mundane Life of Kenneth Shuri," JP Ahonen, a comic take on ninja. These are the first two stories in this volume, and the dissimilarity of everything about them personifies the diversity of Flight: Volume 6. That is not necessarily a bad thing, except that here, it isn't really a good thing. On their own, most of these stories are good. However, very few of these tales stand out, and, when combined, there isn't even the benefit of a unified vision for this volume.
The many genres and subgenres featured in Flight: Volume 6 include western sci-fi ("Daisy Kutter: Phantoms" from Flight editor, Kazu Kibuishi); western drama (Rodolphe Guenoden's "Dead at Noon"); domestic comedy (the surprising "Cooking Duel" by Bannister & Grimaldi); and anthropomorphism (the macabre delight of Nikki Damon and Justin Ridge's "Dead Bunny"). There is a lot to like about Flight: Volume Six. There is literally something for everyone, but not a lot of it is for everyone.
B
Last Updated: Jun 26, 2018 - 9:28