Fire Punch: Volume 2 manga review
By Leroy Douresseaux
April 27, 2018 - 23:31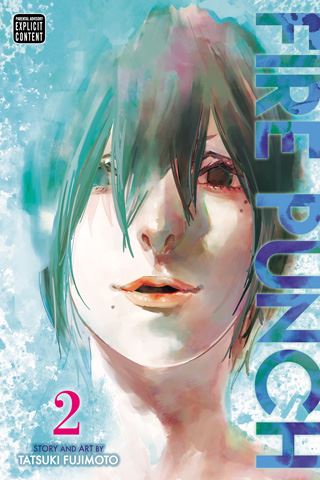 Fire Punch Graphic Novel Volume 2 cover image
Rated "M" for "Mature"
Agni
and
Luna
are siblings who live in a frozen Earth cursed by "the Ice Witch." The siblings are also among those known as "
The Blessed
," people born with abilities to perform miracles. Not all of "The Blessed" are friendly. Some are murderers, like the man called "
Doma
." He is blessed with the power of fire, which he uses to destroy Agni and Luna's village and to kill Luna. Doma engulfs Agni, who has regenerative powers, in a flame that will never extinguish. Now, Agni is a walking man of flame, seeking revenge.
Fire Punch

, Vol. 2
(Chapters 9 to 18) finds soldiers and Blessings in service of the city of
Behemdorg
still trying to destroy Agni. They have beheaded him and plan to dump his flaming head in the ocean before Agni's power of regeneration grows him a new body. Enter the mysterious girl,
Togata
. She loves American movies from the distant past, and now, this movie buff wants Agni and his quest for revenge to be the stars of her new film.
THE LOWDOWN:
The Fire Punch manga opened with surprises. This tough-minded, dystopian thriller goes in unexpected directions, practically with every chapter
Fire Punch Graphic Novel Volume 2
is a superb entry. I will avoid spoilers, but I can say that in Togata, creator
Tatsuki Fujimoto
has a character who surpasses Agni in star power. A young woman of mystery and regenerative powers, she knows the truth behind much of this world's situation... or does she? Togata so dominates this volume and is such a wonderful character, she alone makes Fire Punch a science fiction comic book worth reading. And the sameness of Agni needs a balance...
I READS YOU RECOMMENDS:
Readers looking for dystopian science fiction manga will want to to try VIZ Signature's
Fire Punch
.
A
9.5 out of 10
Rating: 9.5 /10
Last Updated: May 19, 2020 - 12:25