Comics / Comic Reviews / More Comics
Farmhand #1 Ashcan comics review

By Leroy Douresseaux
May 8, 2018 - 13:57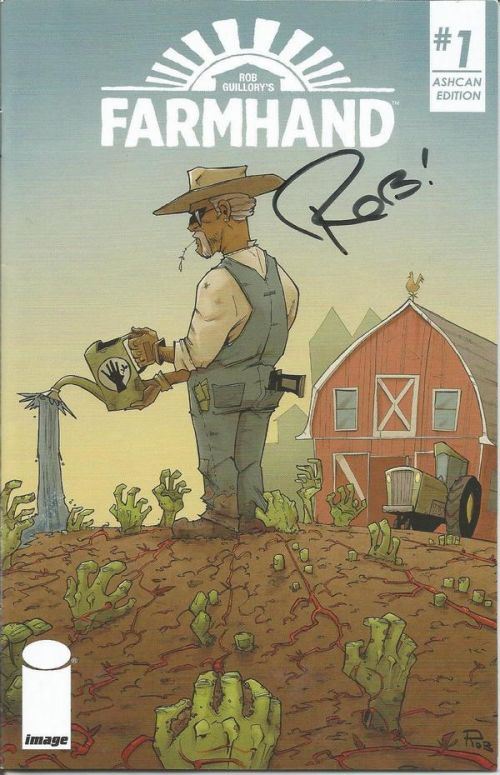 Farmhand #1 Ashcan edition cover
Rated "M/ Mature"

Farmhand created by Rob Guillory



[Farmhand #1 is on Page 5 of the May 2018 Diamond "Previews Customer Order Form."]
Farmhand
is an upcoming comic book series from
Rob Guillory
. Guillory was the artist and co-creator with writer John Layman of the hit Image Comics title, Chew. Guillory is a Eisner Award and Harvey Award winner for his work on
Chew
.
Farmhand Ashcan
is a small, full-color minicomic that previews Farmhand #1 (Chapter 1: "You Can Go Home Again...But Why?), which is due for release July 11, 2018 (Diamond ID: MAY180011). I was able to obtain a copy of Farmhand Ashcan via a friend who received several copies from Guillory. Guillory gave me permission to post a review of this preview.
Farmhand introduces
Ezekiel "Zeke" Jenkins
. He grew up on his father,
Jedidiah "Jed" Elias Jenkins
' farm. Zeke, his wife, and their children (
Abigail
and
Riley
) are embarking on a tour of Jed's farm, which has a new cash crop. For all that is new, however, something has taken root, and the dark secrets will bloom again.
THE LOWDOWN:
Layman and Guillory's Chew, a dystopian science fiction comic book, was both humorous and satirical, similar in some ways to Terry Gilliam's film, Brazil; to the fiction of Philip K Dick, and even to the late Spain Rodriguez's Underground Comix,
Trashman
. It was bright and colorful, and Guillory's small press, alt-comix, graphics aesthetic captured the gore, the violence, and the bureaucracy with glee. Plus, Guillory's graphical storytelling was especially strong from the start of the series, unusual in emerging comic book narrative artists.
Farmhand is different. It bears a resemblance to the macabre side of Americana captured by writer Ray Bradbury and television writer-producer, Rod Serling ("The Twilight Zone"). It is an "American Gothic," and Guillory is like Stephen King, peeling back the folksy charm of agrarian America and revealing its anthropological roots buried in a rich black soil of dark myths and elder things. Rather than with despair, creator and characters will face the hoary horror with a hoary sense of humor.
Guillory gets into the story quickly with the help of his collaborators. Colorist Taylor Wells offers rich hues and technicolor flourishes, and Kody Chamberlain's lettering captures the shifts in the story from horror shocks to strange science.
The cover of Farmhand #1 plays up the series' sly, humorous side, but I think the dark fantasy-scary tale side of this story will bloom in full.
I READS YOU RECOMMENDS:
Fans who really want to read good comic books will want to go down on the Farmhand.
A
http://RobGuillory.com
Rating: A /10
Last Updated: January 24, 2022 - 11:00