Fantagaphics Books Dates Michael Jordan Bio-Comic
By The Editor
November 19, 2014 - 20:34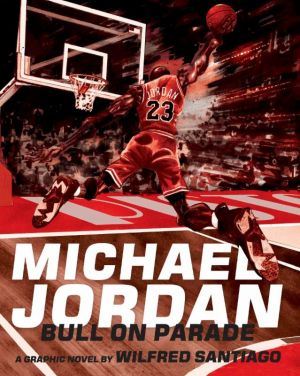 Michael Jordan: Bull on Parade cover image
The Man, The Legend: Michael "Air" Jordan
Everyone knows the legend of Michael Jordan: The Chicago Bulls, Nike shoes, minor league baseball.
You've all heard the stories, and now, in Bull on Parade, Wilfred Santiago shows you the man behind the legend. A follow up to 21: The Story of Roberto Clemente, award-winning cartoonist Santiago delivers the story of the greatest athlete of all time, as only he can.
With each painstakingly painted panel, Bull on Parade gives Jordan, and basketball, the graphic novel they truly deserve.
Kinetic and visceral, a biography of this magnitude has never been done. From his sometimes scandalous and tragic private life to Jordan's intense battles with the "bad boy" Pistons, Clyde Drexler's Trailblazers, and the unrelenting Utah Jazz of the late '90s, Santiago is able to induce a sense of dynamism and awe as he takes on Jordan's life on and off the court.
For all those who have strapped on a pair of Air Jordans, donned the number 23, or wished they could be "like Mike."
Sit back, let your tongue hang out, and marvel at Wilfred Santiago's mastery of the life and times of Michael Jordan in Bull on Parade.
Michael Jordan: Bull on Parade
by: Wilfred Santiago
February 2015
$24.99 | 200 Pages | Full Color
ISBN: 978-1-60699-711-6
Last Updated: September 6, 2021 - 08:15