Fantagraphics Announces "Peanuts: Every Sunday"
By The Editor
February 1, 2013 - 17:07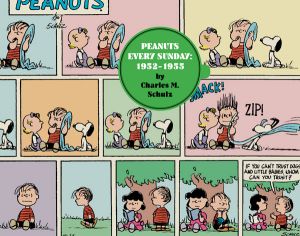 Peanuts: Every Sunday 1952-1955
When Dorothy first finds herself in Oz, the whole world refocuses and shifts from black and white to full color. The time has come for Peanuts to turn a page into the same spectrum! Coming in the Fall of 2013, Fantagraphics will be releasing Peanuts Every Sunday: 1952-1955 in resplendent remastered colors. Each volume will contain four years of Sunday comics just the way Charles M. Schulz intended, in crisp full color. You don't have to be a white witch to see the beauty in these comics.
Publisher Gary Groth stated, "We always felt that the best format for The Complete Peanuts was a black and white reprinting of every Peanuts strip ever drawn and that reprinting the Sunday strips in color would be too distracting. But, we always wanted to reprint just the Sunday Peanuts in full color at a size closer to what they were originally printed in in the newspapers — and so we are, gloriously re-colored using Charles Schulz's original palette." Created by Charles Schulz in 1950, Peanuts ran for 50 years until he retired on February 12th, 2000. He passed away that day with one final strip ready to print.
Peanuts Every Sunday: 1952-1955
by Charles M Schulz
$49.99 Hardcover • 288 pages
Full color • 12.75" x 10"
ISBN: 978-1-60699-692-8
Designed as a series of ten massive coffee-table quality books, each one containing a half-decade's worth of Sunday strips, Peanuts Every Sunday is a book to be enjoyed any day, not just Sundays. Recolored by Joanne Bagge, the striking colors of the Red Baron dashing across the sky to the soft blue hue of Linus' blanket to Woodstock's fuzzy yellow head all grace the pages of Peanuts Every Sunday. Enjoy the secret pleasure of seeing Charlie's original zigzag shirt in many colors before becoming its trademark yellow.
Don't be a blockhead – get ready for for the majestic beauty of Charles M. Schulz in full color.

Last Updated: August 31, 2023 - 08:12