Fantagraphics Bookstore Has Big Labor Day Weekend
By The Editor
September 2, 2011 - 09:21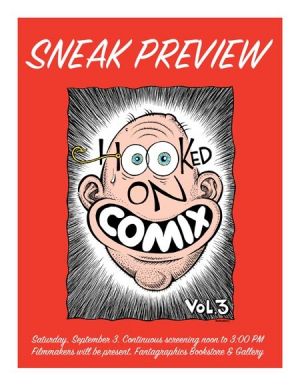 Hooked on Comix event poster image
Hooked on Comix? Nonstop Action at Fantagraphics Bookstore Starting this Saturday!
Drop by Fantagraphics Bookstore on Saturday, September 3 to be among the first in the nation to view "Hooked on Comix 3." Audrey Mandelbaum and David P. Moore have been documenting masters of alternative comix at the peak of their prowess since 1993. The latest installment features two of Fantagraphics most talented and eccentric artists: Tony Millionaire and Dame Darcy. Meet these exceptional Los Angeles filmmakers as we continuously screen the short film between noon and 3:00 PM. As an added incentive to attend, all titles by the stars of the documentary will be 20% off all day Saturday.
For your comix shopping convenience, Fantagraphics Bookstore will be open on Labor Day Monday, September 5 from 11:30 to 4:00 PM.
The coming weeks bring some incredibly talented and diverse artists to the store. On Saturday, September 10 we host a preview of "Drawing Power," an exhibition of cartoon advertising curated by Warren Bernard. The curator will give a slide presentation at the bookstore on Saturday, September 24. He'll be joined by special guest Tom Neely presenting his new "painted novel," The Wolf.
Saturday, October 1 marks the launch party for "Oil and Water" with journalist-writer Steve Duin and editor Michael Rosen. Be the first to get a look at this remarkable graphic story of the British Petroleum oil spill that forever fouled the Gulf Coast.
The next Saturday, October 8 is the opening of the "Brinkley Girls" exhibition curated by comix legend Trina Robbins. Trina will give a short slide presentation on Nell Brinkley followed by a book signing. This event is in association with the fabulous Geek Girl Con in Seattle October 8 and 9.
We have tentative plans to host a super special guest in October as well. Stay tuned. Don't miss a minute of the action at Fantagraphics Bookstore & Gallery, located at 1201 S. Vale Street in Seattle's colorful Georgetown arts community. Open daily 11:30 to 8:00 PM, Sundays until 5:00 PM. Phone 206.658.0110.
Last Updated: September 6, 2021 - 08:15