Fantagraphics Books Launches a New Manga Line
By The Editor
March 9, 2010 - 11:42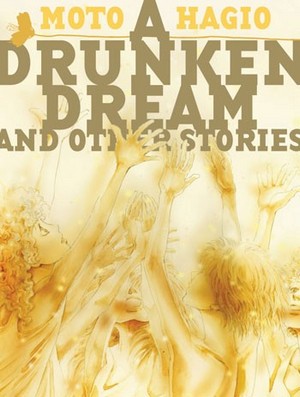 A Drunken Dream and Other Stories cover image
Here Comes The Son:
Fantagraphics Starts A Manga Line
After years of development, Fantagraphics is unveiling a new line of manga. Kicking things off in September 2010 is a collection of short stories from the mother of shōjo (young girl) manga, Moto Hagio. Next, is a multi-volume series from the GLBT manga-ka Shimura Takako. Each book will be released in hardcover form, keeping the original "right to left" manga style for a deluxe, yet authentic reading experience.
The first book, entitled Drunken Dream, is a collection of short stories by Hagio falling into multiple genres created between 1971-2007. This tome travels through several of Hagio's most revolutionary and poignant tales that span over the years of her lush career.
In December 2010, comes one of the defining transgendered-centric manga, Wandering Son. Shimura Takako's ongoing series follows two young friends, Shuichi and Yoshino. These 5th graders struggle with only not puberty, but also severe identity issues; Shichi is a boy who wants to be a girl, and Yoshino is a girl who wants to be a boy. The two find solace in their mutual confusion and help each other cope with their gender frustration while embarking on the complicated journey of growing up.
To celebrate the launch of the new Fantagraphics manga, Moto Hagio is making her first ever visit to The United States to attend Comic-Con International 2010 as a special guest. More details on a speaking event and panel at The Con will be available soon.
Moto Hagio spearheaded the rebellious shōjo in the 1970's. She, along with a few other women, formed an artist collective called the "Magnificent 24." Influenced by radical youth culture of the 60's, American and British rock 'n' roll, and European cinema, these women pioneered shōjo and helped develop the style that so most manga-ka emulated today. Winner of the Shogakukan Manga Award, Seiun Award, Osamu Tezuka Cultural Prize, Nihon SF Taisho Award and many others, Hagio has earned respect as a Japanese artist superstar and won the hearts of manga fans for the last 40 years.
Shimura Takako is a female manga creator living in Tokyo. Her focus on GLBT issues places her work in a space that's rocked out by The Gossip and on par with Alison Bechdel. Several of Takako books have been honored with recommendations from the prestigious Japan Media Arts Festival.
Fantagraphics Books (www.fantagraphics.com) has been the world's leading publisher of comics and graphic novels since 1976.
Last Updated: August 31, 2023 - 08:12