Johnny Ryan in L.A. to Promote "Prison Pit"
By The Editor
October 13, 2009 - 12:05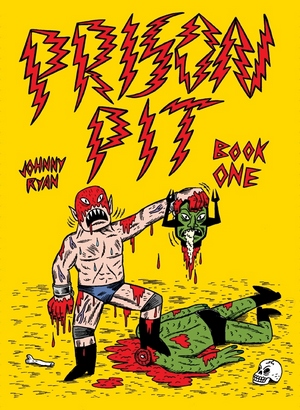 Prison Pit Book One cover image
Johnny Ryan's PRISON PIT takes over L.A. Oct. 21
Fantagraphics Books invites you to join them for a book release party for the release of Johnny Ryan's mind-blowing new graphic novel, PRISON PIT!
WHAT: Book Release Party/Signing
WHO: JOHNNY RYAN & MARC BELL
WHEN: Wednesday, Oct. 21 at 8PM
WHERE: FAMILY, 436 Fairfax Ave., Los Angeles, CA 90036
323.782.9221, http://www.familylosangeles.com/blog/
Prison Pit is an original graphic novel from the pen of Johnny Ryan, best known for his humor comic, Angry Youth Comix. Prison Pit represents a marked departure from AYC or his Blecky Yuckerella weekly comic strip, combining his love for WWE wrestling, Gary Panter's "Jimbo" comics, and Kentaro Miura's "Berserk" Manga into a brutal showcase of violence, survival and revenge. Imagine a blend of old-fashioned role playing fantasy games like Dungeons & Dragons crossed with contemporary adult video games like Grand Theft Auto, filtered through Ryan's sense of humor.
The book begins with C.F. (his full-name would be too horrifying to reveal here) being thrown into the Prison Pit, a barren negative-zone populated by intergalactic, violent monster criminals. In this first volume, C.F. gets into a bloody slorge war (a slorge is a giant slug that excretes a steroid-like drug called "fecid" that all the monster men are addicted to) with ultraprisoner Rottweiler Herpes and his henchmen Rabies Bloodbath and Assrat. The ensuing bloodbath is an over-the-top, hyperviolent yet hilarious farce worthy of Ryan's inspiration, Kentaro Miura.
READ A PREVIEW OF PRISON PIT HERE:
http://www.fantagraphics.com/images/stories/previews/ppit01-preview.pdf
"Oh yes, it's finally here — Johnny Ryan's bloody sexual fight comic [Prison Pit Book 1], ...a two-fisted smash-up of international comics influence and the universal joy of tight-wound one-on-one combat, so tight that everything that comes out of a body becomes a weapon, and doesn't that have a way of mixing pleasure and pain? ... I liked this a hell of a lot." – Joe McCulloch, Jog - The Blog

"Perhaps the best and also craziest comic Johnny Ryan has made yet. Definitely adults only. There's no hidden meaning, deep metaphor, life lessons, etc. just crazy, funny action adventure. I hope he does 1,000 pages of this and it comes out as a huge weird omnibus." – Jeffrey Brown
"With nowhere near as much potty-mouth dialogue as in Ryan's ridiculously scabrous Angry Youth Comix and Blecky Yuckerella, this combat-fantasy jape is a verbal pussycat in comparison, but that is offset by the nauseating blood, guts, and excretions splattered all over its ludicrously crude action. For splatter-movie fans and anyone trying to grok the splatter-movie ethos, not to be missed." – Ray Olson, Booklist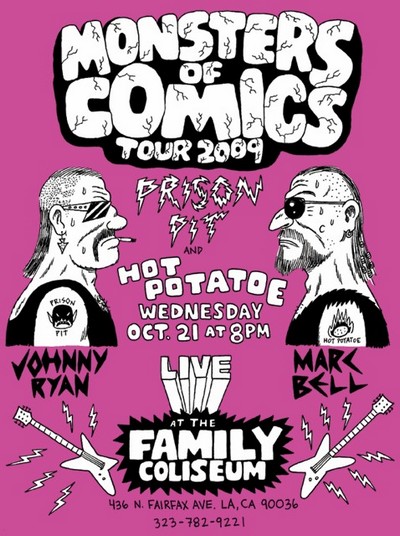 Monster of Comics Tour poster
Last Updated: August 31, 2023 - 08:12