Bob Levin Release Party for New Book in May
By The Editor
Apr 15, 2008 - 6:09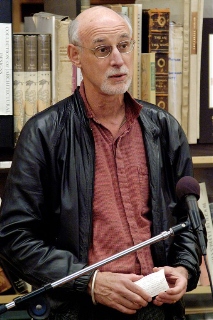 Bob Levin
BOB LEVIN DEBUTS MOST OUTRAGEOUS: THE TRIALS AND TRESPASSES OF DWAINE TINSLEY AND CHESTER THE MOLESTER WITH TWO BAY AREA EVENTS
You are invited to two exciting Bay Area events featuring acclaimed Berkeley author Bob Levin, whose new book, Most Outrageous, details the unsettling story of the life of Hustler cartoonist Dwaine Tinsley, creator of "Chester the Molester." When Larry Flynt's Superstar was accused of sexually abusing his teenaged daughter for five years, the prosecution brought in hundreds of Tinsley's cartoons as evidence. Levin details this unprecedented case, and Tinsley's family life, with unquestionable sophistication, exhaustive journalistic research, and humanity.
WHO: Bob Levin
WHAT: Most Outrageous Book Release Party, with author reading &
signing as well as hors d'ouevres and no host bar
WHERE: Chester's Bayview Café
1508 Walnut St
Berkeley, CA 94709
(510) 849-9995
WHEN: Friday, May 16, 7-9PM
WHO: Bob Levin
WHAT: Most Outrageous author reading and signing
WHERE: Comic Relief of Berkeley
2026 Shattuck Ave
Berkeley, CA 94704
(510) 843-5002
WHEN: Sunday, June 1, 6PM
ANNOUNCING BOB LEVIN'S MOST OUTRAGEOUS
In May 1989, Dwaine Tinsley stood at the summit of an unlikely career. The product of a broken, trailer-trash marriage, he was a high school dropout who had decided to become a professional cartoonist while serving a six-year sentence in a Maryland prison for burglary. As cartoon editor for Larry Flynt's notorious Hustler magazine, he had assembled a staff of pen-and-Wite-Out-wielding Lenny Bruces whose unprecedentedly offensive socio-sexual cartoons had spearheaded that publication's fight against the forces of censorship and repression that sought to overthrow the political and cultural gains of the 1960s. His primary personal contribution - spawned amidst a national hysteria that saw a plague of child sexual abuse arising everywhere from pre-school staffs to satanic sects - was "Chester the Molester," a hulking middle-aged man who craved pre-pubescent girls.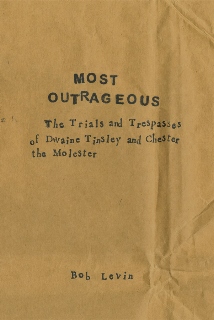 And then Tinsley's teenage daughter accused him of sexually violating her over the course of five years. And the prosecution in his ensuing criminal trial cast several storage boxes full of his cartoons against him. Most Outrageous is the story of the trial of Dwaine Tinsley as well as the story of Tinsley's family life.
Bob Levin's writings have established him as one of the most thought-provoking chroniclers of cartoonists today. Most Outrageous carries his search for the work and lives of the most inflammatory creators in the field onto new, unsettling ground, and Levin navigates this difficult subject with sophistication and grace.
Levin, an author and attorney, lives in Berkeley, California, with his wife and frequent collaborator, Adele. He is a long time contributing writer to The Comics Journal and the author of The Pirates & the Mouse: Disney's War Against the Counterculture, hailed by critics as "masterful," "passionate," "elegant," "charming" (twice), "thoughtful," and "hilarious."
"If good criticism is that which prompts and cultivates a reader's interest in the subject at hand, no matter their prior prejudice, Levin is an unassailably great critic. The studied enthusiasm and clarity of his essays suggests that he may be the best comics critic writing today." - Rain Taxi
MOST OUTRAGEOUS: THE TRIALS AND TRESPASSES OF DWAINE TINSLEY AND CHESTER THE MOLESTER By Bob Levin
$19.99 Paperback Original
200 pages, illustrated, 6" x 9"
ISBN: 978-1-56097-919-7
CATEGORY: JOURNALISM
PUB DATE: JUNE 17, 2008
Last Updated: Jun 26, 2018 - 9:28