New Daniel Clowes Comic Strip Launches Sunday in NY Times
By The Editor
September 13, 2007 - 12:27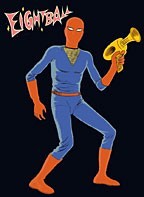 The cover for Eightball #23, Clowes' most recent comics work before his Times gig.
"MISTER WONDERFUL" LAUNCHES SUNDAY IN THE NEW YORK TIMES MAGAZINE
New Daniel Clowes serial launches Sunday in NY Times
This Sunday, September 16th, The New York Times will launch a new weekly comic strip in the "Funny Pages" section of The New York Times Magazine by graphic novelist Daniel Clowes (Ghost World, Ice Haven). Titled "Mister Wonderful," the strip will run through mid-January 2008 and replaces Megan Kelso's "Watergate Sue," which wrapped up this past Sunday (Sept. 9).
Mr. Clowes loosely characterizes the serial as a "romance" without offering any other clues about the work. The strip marks the first new major comics work by Clowes since 2004's "The Death Ray," published in issue #23 of his ongoing comic book series, Eightball.
Meanwhile, on Sunday, Oct. 7, Daniel Clowes will join fellow comics creators Art Spiegelman (Maus) and Alan Moore (Watchmen) as characters on "The Simpsons." The plot concerns Comic Book Guy, who gets some competition in Springfield from a new store, "Coolsville Comics & Toys," run by "hipster" Milo, voiced by Jack Black.
The New York Times and The Simpsons are not the only things for Clowes fans to look out for the rest of the year. Other upcoming published work by Clowes includes a cover for the Penguin Classics edition of Mary Shelley's Frankenstein (pub. date Sept. 25) and a story for the Zadie Smith-edited The Book of Other People (pub. date Dec. 18).
In 2008, look for the long-awaited 10th-anniversary edition of Ghost World from Fantagraphics as well as a cover for the second volume of Yale's Anthology of Graphic Fiction, edited by Ivan Brunetti.
Daniel Clowes is the acclaimed author of Ghost World, Ice Haven, Eightball, and many other popular comics and graphic novels, and is also an Academy Award-nominated screenwriter (Ghost World). He lives in Oakland, CA, with his wife and son.
For more information on the New York Times Magazine and its "Funny Pages" section, go here: http://www.nytimes.com/pages/magazine/
http://www.nytimes.com/ref/magazine/funnypages.html?_r=1&oref=slogin

For more information on Daniel Clowes, visit: http://www.fantagraphics.com/artist/clowes/clowes.html
Last Updated: September 6, 2021 - 08:15