Gilbert Hernandez & Cathy Malkasian at BOOK SOUP 9/25
By The Editor
Sep 11, 2007 - 15:36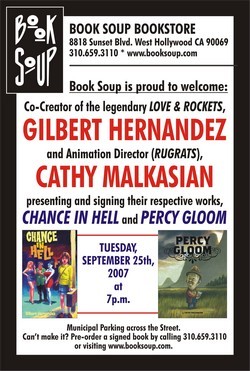 The poster advertising the event.
GILBERT HERNANDEZ & CATHY MALKASIAN AT L.A.'s BOOK SOUP ON TUESDAY, SEPT. 25th!
Los Angeles's Book Soup is proud to welcome acclaimed graphic novelist Gilbert Hernandez, co-creator of the legendary Love & Rockets comic book series, and animation director Cathy Malkasian, as they present and sign their respective latest works, the graphic novels Chance In Hell and Percy Gloom.
Along with his brothers Jaime and Mario, Gilbert Hernandez revolutionized comics beginning with the release of the first issue of Love and Rockets in 1982. His early stories --an exquisitely drawn, unique blend of punk and sci-fi -- soon made way for a cycle of more realistic stories set in the mythical Central American town of Palomar, centered around an ever-increasing, richly detailed group of female characters, including the hammer-wielding Luba. In 2004, Booklist hailed this ongoing body of work, "the most substantive single work that the comics medium has yet produced." Born and raised in Los Angeles, Gilbert now lives in Las Vegas, NV and will be making a rare appearance in his hometown.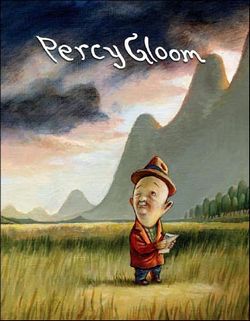 The cover of Malkasian's hit book, Percy Gloom.
Cathy Malkasian is best known for her work in the field of animation, having directed The Rugrats TV show for Nickelodeon as well as the acclaimed The Wild Thornberrys animated feature, which garnered her a British Academy Award nomination for Best Animated Feature. With Percy Gloom, Cathy Malkasian has made the jump from animation to the printed page with a graceful, delicate leap, deftly uses her pencil to create thick, expressive characters moving through the twilight of a shadowy Orwellian world. Humorous and bewitching at the same time, Percy Gloom is a unique gem of a story, one which cartoonist Jeff Smith (author of Scholastic's bestselling Bone) says, "swirls with echoes of cartoon landscapes from the past and present. You can almost hear Percy's meek, docile little voice. Malkasian's writing is so full of wit and charm that we, like the title character, walk dutifully to the edge and fall in. And like Percy, we are rewarded equally with night terrors and secret treasures. I love this book." Malkasian lives in Los Angeles, and this will mark her first-ever in-store signing for Percy Gloom.
This event is free and open to the public of all ages.
Listing Information:
WHO: Gilbert Hernandez & Cathy Malkasian
WHAT: Graphic novel signing
WHERE: Book Soup
8818 Sunset Blvd.
West Hollywood, CA 90069
WHEN: Tuesday, Sept. 25th, 7PM
Municipal parking is available across the street. Can't make it? Pre-order a signed book by calling 310.659.3100 or visiting www.booksoup.com

Last Updated: Jun 26, 2018 - 9:28