BAGGE & FORNEY event at Seattle's Fantagraphics Bookstore
By Leroy Douresseaux
December 5, 2006 - 16:48
CARTOONISTS PETER BAGGE AND ELLEN FORNEY ENTERTAIN AT THE NEW FANTAGRAPHICS BOOKSTORE & GALLERY IN GEORGETOWN ON DECEMBER 16.
Fantagraphics Bookstore & Gallery is hosting a multimedia event featuring two of the nation's most accomplished cartoonists - Peter Bagge and Ellen Forney. This free event will take place on Saturday, December 16 at 6:00 PM at 1201 S. Vale Street (at Airport Way) in Seattle's lively Georgetown district.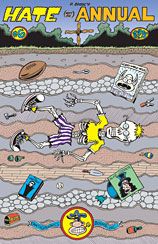 The cover to Bagge's recent "Hate Annual" #6
According to Fantagraphics, Peter Bagge is among the most significant alternative cartoonists in the field (and they're right about that - LD). After relocating to Seattle from New Jersey in the 1980s, Bagge began his remarkable comic book series Hate. This chronicle of lovable loser Buddy Bradley and his hapless pals remains a concise and poignant satire of the grunge movement, which focused international attention on the provocative Northwest counterculture.
At the time of its publication, the Seattle Weekly observed, "Twenty years from now, when people want to know what it was like to be young in 1990s Seattle, the only record they'll have is Peter Bagge's 'Hate.'" These extraordinary stories have been collected by Fantagraphics Books in Buddy Does Seattle, and Bagge continues to produce the Hate Annual. Bagge will screen rarely seen animated shorts produced by Sub Pop and MTV and give cultural context to his comics.

Cover of Forney's "I Love Led Zeppelin.
Ellen Forney's recent I Love Led Zeppelin anthology, published by Fantagraphics Books, has been greeted with critical acclaim by prestigious publications including the L. A. Times, Salon, Vice, Spin, and Pink. Her multimedia performance inspired by the comics from the book played to capacity houses in Seattle, most recently at Northwest Film Forum in September. With the popular title now back in print, Forney will reprise this wildly entertaining show, which combines cartoons, music, and stand-up comedy.
Original artwork by Peter Bagge and Ellen Forney is featured in the current exhibition at Fantagraphics Bookstore & Gallery, "30 Years of Misfit Lit." The artists will be available to sign books and the event appearance is free to the public.
LISTING INFORMATION:
Peter Bagge & Ellen Forney
Saturday, December 16, 6:00 PM
Fantagraphics Bookstore & Gallery
1201 S. Vale Street (at Airport Way)
206.658.0110
For more info, visit www.fantagraphics.com
Last Updated: September 6, 2021 - 08:15