Major Fantagraphics Art Exhibition in NYC!
By Leroy Douresseaux
September 23, 2006 - 06:58
From Fantagraphics PR master, Eric Reynolds, comes this notice:

This seal means quality!
THE SOCIETY OF ILLUSTRATORS CELEBRATES THE 30TH ANNIVERSARY OF "THE PUBLISHER OF THE WORLD'S GREATEST CARTOONISTS"

From September 27th - October 21 the Museum of American Illustration at the Society of Illustrators will host "30 Years of Fantagraphics," a retrospective art exhibition of over 100 pieces of original art published by the Seattle underground giant. The show will include pieces spanning three decades of publishing, including pieces by Daniel Clowes, Chris Ware, Peter Bagge, Joe Sacco, Jim Woodring,
Frank Frazetta, Tony Millionaire, Gilbert Hernandez, Jaime Hernandez,
Robert Crumb, Drew Friedman and dozens of other revolutionary
cartoonists.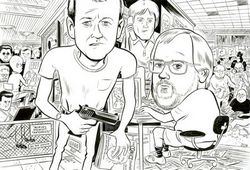 An exhibition piece by the divine Dan Clowes
ARTISTS INCLUDED IN THE EXHIBITION: Rick ALTERGOTT * Max ANDERSSON * Andrice ARP * David B. * Peter BAGGE * Gabrielle BELL * Marc BELL * Jonathan BENNETT * Jim BLANCHARD * Steve BRODNER * Ivan BRUNETTI * Martin CENDREDA * Daniel CLOWES * Al COLUMBIA * Dave COOPER * Jordan CRANE * Robert CRUMB * Kim DEITCH * Simon DEITCH * Michael DOUGAN * Jeremy EATON * Bob FINGERMAN * Mary FLEENER * Ellen FORNEY * Frank FRAZETTA * Drew FRIEDMAN * Francesca GHERMANDI * Roberta GREGORY * Bill GRIFFITH * Leah HAYES * David HEATLEY * Tim HENSLEY * Gilbert HERNANDEZ * Jaime HERNANDEZ * Paul HORNSCHEMEIER * Kevin HUIZENGA * Jack JACKSON * JASON * R. Kikuo JOHNSON * Ted JOUFLAS * Mark KALESNIKO * KAZ * Megan KELSO * Jeff KLEINSMITH * Michael KUPPERMAN * Terry LaBAN * Tony MILLIONAIRE * Pat MORIARITY * Mark NEWGARDEN * Anders NILSEN * Johnny RYAN * Joe SACCO * Stan SAKAI * Richard SALA * David SANDLIN * Ted STEARN * James STURM * Lewis TRONDHEIM * Carol TYLER * Chris WARE * Steven WEISSMAN * Kurt WOLFGANG * Jim WOODRING

Fantagraphics Books has been a leading proponent of comics as a
legitimate form of art and literature since it began publishing the
critical trade magazine The Comics Journal in 1976. By the early
1980s, Fantagraphics found itself at the forefront of the burgeoning
movement to establish comics as a medium as eloquent and expressive as the more established popular arts of film, literature, poetry, et al.
Fantagraphics quickly established a reputation as an advocacy publisher that specialized in seeking out and publishing the kind of innovative work that traditional comics corporations who dealt almost exclusively in super-heroes and fantasy either didn't know existed or wouldn't touch: serious, dramatic, historical, journalistic, political, and satirical work by a new generation of alternative cartoonists as well as many artists who gained prominence as part of the seminal underground comix movement of the '60s. Fantagraphics has since gained an international reputation for its literate and audacious editorial standards and its exacting production values.

The work of artists such as R. Crumb, Peter Bagge, Gilbert and Jaime
Hernandez, Dan Clowes, Joe Sacco, Chris Ware, Jessica Abel and others has continued to gain commercial momentum and critical recognition over the last 20 years by combining the social relevance of the previous generation of underground comix artists, attention to
personal and psychologal veracity, and formal experimentation and
innovation.

Fantagraphics' authors have garnered more favorable press attention
than any publisher's in the history of the medium. Recent books alone
have received significant, positive coverage in TIME, Newsweek,
Entertainment Weekly, Spin, The New York Times, The Los Angeles
Times, The Washington Post, The Nation, and others. Fantagraphics was
ranked among the top five most influential publishers in the history
of comics in a recent poll by an industry trade newspaper; it was the
only independent publisher on the list, and the only contemporary
publisher named alongside corporate behemoths Marvel and DC.

"FANTAGRAPHICS BOOKS as been to the '80s and '90s what City Lights
was to the '50s and '60s: the premiere gathering place, publisher and
promoter of the era's most exciting and multi-faceted form of
literature." — Utne Reader

"It'd be difficult to find more challenging and entertaining rabble-
rousers amid the panorama of popular culture." — The Village Voice

"Fantagraphics publishes the best comics in the world." — Wired

"These guys know what the hell they're doing." — Salon.com

Founded in 1901, the Museum of American Illustration at the Society
of Illustrators is a nonprofit educational organization dedicated to 'the promotion of the art of illustration - past, present and future." It has over 1,000 members and is headquartered in an 1875 vintage carriage house in New York's Upper East Side.

For more information, please visit: www.societyillustrators.org
Last Updated: August 31, 2023 - 08:12