"Green Goblin's Last Stand" creator Dan Poole
By Christopher Moshier
Jul 12, 2006 - 11:46
"Life is never simple for our favorite wall-crawling hero, but it's about to get a lot more complicated. When Norman Osborn returns unexpectedly from the rehabilitation clinic, his sinister alter ego threatens too come back as well. With his spider-sense set on overdrive, Peter Parker races to keep Osborn at ease before his anxiety propels him into Spider-Man's deadliest foe...The Green Goblin."
- Dan Poole, Cofounder and President of Alpha Dog Productions, Inc.
While a feature length Spider-Man movie was going through a Hollywood legal battle, Dan Poole was doing what all fan boys do when they want a movie based on their favorite character, make their own. Although Dan's efforts didn't exactly make true his overall goal the film did generate a lot of publicity and notoriety with the online community. Armed with a mere $400 and the heart of a fan, Dan and his talented group of filmmakers set out to make a Spider-Man movie the way they would want it done. Fan Film Follies interviewed Dan back in 2002 and with keeping with our, "where are they now theme" we've incorporated that interview with some new questions to what he has been up to in that time frame.
COMIC BOOK BIN (through Christopher Moshier): Good day, Dan. Tell us about yourself, your company, and what you been the happening in the life of Dan Poole since our original interview way back in 2002?
DAN POOLE: I'm a Gemini, I like high falls and physical stuff. I laugh everyday of my life and I would do anything for my friends. Alpha Dog Productions was started with the help of one of my very good friends, Caroline McGee, who just wanted to see me get something of my own done. She's still waiting. The past few years I have been working as a freelance Producer/Videographer. I feel as though I have fallen into my own worst nightmare that I used to have: having to work for a living! Every year I try to get another project off the ground but I never seem to fully complete a screenplay to my liking. In August I was fortunate enough to attend Robert McKee's "Story" workshop in New York and I finally feel like I have all the tools necessary to finish a good, solid script. To be specific, last year I was contacted by the Producer's of a potential MTV show entitled, "Who Wants To Be a Superhero" and asked to create an original superhero. When the show wasn't picked up I felt like the character I created was so cool that I had to do something more with him, and that's the story I'm about to shoot. I have an actual investor with actual money who is very eager to shoot something with me. We are gunning for a Spring '06 production followed by a massive marketing campaign and entries into every festival that will have us!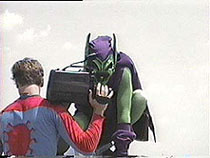 CCB:
Who Wants To Be A Superhero? I have heard of this show and you can learn more about it over at
Silver Bullet
. The show never made it to air. What was the concept you came up with?
DP: I'd love to tell you all about it but I'm going to have to wait until the screenplay is finished and registered. I hope that will happen by the end of November, so stay tuned!
CCB: For the people that are not familiar with Green Goblin's Last Stand let's review. For anyone who hasn't seen the film there are a few sites that host it. I was able to find it File Front with little trouble as of this writing. I did download it and it did work. Was your desire to make the fan film a love for the Spider Man/Marvel "Universe" or a great vehicle concept for action?
DP: Absolute love for Spidey/Marvel characters. I grew up with them and have ALWAYS wanted to share that world with others.
CCB: Give us a little history lesson from the point you decided to start this production, actually filming, how it was viewed at first, and then how it made its way onto the Internet.
DP: After creating a few other Spidey videos and a ton of various goofiness with my friends, I decided it was time to get super serious about a demo reel for me. I wanted to impress James Cameron and knew I'd have to pull out all the stops to do so on my level. It started in September of 1991 with a phone call to Eric Supensky who gladly made the Green Goblin's mask. It was a roller coaster ride from that point on as I tried to organize actors, schedules, locations, props, stunts and you-name-it else until December of 1992. The first screening ever was at my buddy Jon's Christmas party. Everyone was amazed. Hell, I was amazed. I couldn't believe it was finally done! In addition to assaulting Cameron's office with requests to screen it, I sent copies to a few people in the comic book industry like the magazine Hero Illustrated. It is my belief that it germinated from there and began a life of its own. It's been copied over and over and over again and passed along from Comic Book Convention to Convention. In 2000 I discovered it being sold on the Internet and I went BALLISTIC. In fact, I can't even tell that tale without proper medication.
CCB: Can you comment on the music and where it originates?
DP: We used a Howard Jones song for the opening and ending. I liked the tune and lyrics and at the time thought it fit the best. The rest of the music was borrowed from cool soundtracks that we (Eric & I) liked. Eric has always had a great ear for what fits and he guided a lot of the soundtrack from others like T2 and Batman.
CCB: You're swinging on a rope (You must have the upper body strength working.) Did you train for that at all?
DP: Negative. Just went and did it. My training is my life. I do stuff like that whenever I get the itch!
CCB: And on top of cars!
DP: Grabbed the edges tightly and with all the determination in my body. It HAD to be Spidey, ya know?
CCB: Norman Osborn falls down the stairs.
Running across the rooftops. I hope you had your Spidey-Boots on.
Did you have something on your feet?
DP: Fun, fun, fun. SCARY! But fun! The feet were Nike Aqua Sox with fabric sewn on.
CCB: Green Goblin's Glider. How did you manage those shots?
DP: Not as well as I would have liked, actually. We used a home made see-saw, basically. Like the contraption they used for the land speeder in Star Wars. We had the glider mounted on one end and the camera on the other, and someone would spin us around while we worked the shot through the viewfinder. Other times it was just on a dolly that someone would push.
CCB: Webbing! How was that designed?
DP: The fluid was milk and water that we shot through a pressure sprayer. We'd cut to a close up and when I did the motion, the guy behind me would pull the trigger. The solid web was a rope we painted white and then dressed up with yarn and glue.
CCB:
Pumpkin Bombs?
DP: Hand carved foam rubber by yours truly. The effects varied, but once we just used an orange balloon with red tempera paint in it for a"powder bomb", and then there was the flash powder cut aways to the exploding ones.
CCB: How about your cast?
DP: Both Bob Tull (Harry Osborn) and Jimi Kinstle (Norman Osborn) have been acting in and around Baltimore for the past 10 years. Jimi is President of the Baltimore Shakespeare Festival.
CCB: How did you get the permission to film where you filmed?
DP: I did ask for permission at a couple of places, but only one really said yes (casa de Osborn). The guy who owned the building I swung around told me point blank to stay away from his building, but I had to get that shot and it was the perfect location.
CCB: What locations did you film at?
DP: The roof top fight: an apartment building overlooking the Jones Falls Expressway. The daytime swing: an abandoned office building in downtown Baltimore. The warehouse: a burned out warehouse next to a train yard for exteriors and a huge space provided by a local production company for the interiors. The Osborn's: A friend of a friend's townhouse downtown.Pete's place: A complete stranger's apartment in the same building as the rooftop fight.
CCB: I was a comic book collector and I did collect Spider-Man, but missed the Green Goblin/Gwen Stacy Arc. How close is your story to the actual comic book?
DP: As close as you can get for $400! The biggest change (to me) is that we were on a rooftop for the initial battle instead of a bridge. Other than that, it's pretty much straight from the page. HOWEVER, I did fabricate the fight in the alley between Norman and the thugs because in the book, Norman loses his mind and "runs screaming out into the night". BUT, right after he finds one of his hideouts, he's abducting Gwendolyn in broad daylight. Very weird!
CCB: Let's talk your Wolverine film. I read on your boards the following after being asked if Alpha Dog had created a Wolverine film, "Yes, there was. I should know because I played him. About 20 people (cast + crew) participated in the short, shooting all hours of the night after working our day jobs. DP's final product was remarkable. However, for some reason it has been swept under the rug leaving all of our time and efforts in vain. You all would have enjoyed it." Can you tell us more about the film and if you ever plan on releasing it?
DP: This was made for some Comic Con fun. My sole purpose was to put something new out there because Sandy Collora did such an amazing job with Batman: Dead End. I guess I felt like I needed to do a fan film with the tools of the 21st Century! When the San Diego Comic Con refused to play anymore fan films at all it kind of took the wind out of my sails. We had a small viewing at a local bar near the convention center, but I never had any real intentions with it past that. As ignorant as it sounds, I just haven't made much effort in getting it online. I don't know where to send it! If you can tell me who'll host it - I'll send it right along for all to check out.
CCB: I am sure a lot of people would like to check this out. Maybe even a Fan Film site I know may want to host it. You also had a Captain America film on tap. What was the story idea and what was the final decision to not film the completed script?
DP: Oh man, was I digging this story - in fact, I still LOVE this concept. This was my original "reply", if you will, to Sandy's awesome Batman fan film. While in preproduction for this endeavor, I was talking with a friend about an idea I had about a Wolverine short. He considered how much effort was going into the Cap project and what my deadline was for the Con and it was his suggestion that I do Wolvie first. All the props, costumes, locations and money went right down the drain after that. I've even left the shield we made get messed up since. It is hard to explain in words how agonizing it is to struggle for something like that with so few resources - even now. But the story, well - it's just a simple little tussle with the Red Skull - but it's the context in which it happens that I am still in love with. The short was to be presented as a chapter in a DVD menu, highlighted among a list of others that round out a VERY COOL Avengers theme. Cap comes to the rescue of two captured Feds only to have the Skull and his men seemingly corner him. During the standoff, Iron Man and Thor descend outside the large bay door and Cap levels a glare at the Skull. As a hammer, a shield and a beam hit the screen we jump back to the DVD menu. I think it would be just so fun to see/do. I just don't have the money to invest in something that will bring me zero return.
CCB: Thanks so much once again for fielding questions for FFF. You are always receptive and eager to share your ideas and thoughts with the fanboy (and girl) community.
DP: My pleasure! I just wish I had more to add right now. I will definitely keep you abreast of my current project. I think part of my marketing campaign will include a list of media contacts that are interested in spreading the word, so you'll be sure to stay updated.
Dan Poole sent me along his "Wolverine: Last Call" fan film. I used Google Video to present it to you here. ENJOY!
Click on the "Play" Icon to watch an episode.
You can also check out Dan Poole's "Green Goblin's Last Stand".
Click on the "Play" Icon to watch Part 1.
Click on the "Play" Icon to watch Part 2.
If you would rather download these films to your own computer you can click on the links to do so:
This interview was originally conducted in November 2005. Since then, as you know, Who Wants To Be A Superhero? has been picked up by the Sci-Fi Channel.
---
If you have any suggestions for articles or want your fan film spotlighted on these here pages or just want to say hello please email me at christopher@comicbookbin.com.
You can also visit the Comic Book Bins "Fan Film Flinks" for many more links to fan films and beyond by going HERE.
Last Updated: Jun 26, 2018 - 9:28