The Record of a Fallen Vampire: Volume 2
By Leroy Douresseaux
August 11, 2008 - 19:33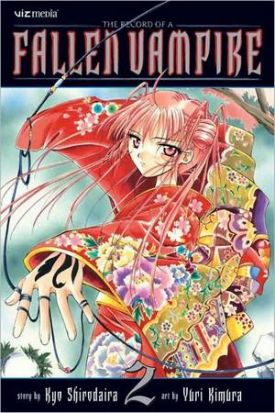 Thanks to barnesandnoble.com for the above cover image.
Rated "T" for "Teen"
One thousand years ago, vampire King Akabara "Red Rose" Strauss lost both his sovereignty, The Kingdom of the Night, and his wife, Queen Adelheid. Akabara's enemies, dhampires (humans with vampire blood), entombed Adelheid behind an enchanted seal in a secret location. The dhampires erected thousands of false seals to keep Akabara from finding Adelheid's true location.
Akabara's quest has always been haunted by the shadow of the Black Swan, the black bird of despair that can destroy magic in any form. Every 50 years, the Black Swan inhabits the body of a young girl; now, a new Black Swan has come to kill Akabara.
In The Record of a Fallen Vampire, Vol. 2, Akabara still reels from the revelation that Kayuki Kirasaka, the 50th Black Swan, wants to form an alliance with him. Her offer: work together in service of her cause (which she insists must remain secret for the time being), and Akabara and Kayuki can resume their quest to kill each later. Meanwhile, Renka, the lover of the Yuki Komatsubara, the 49th Black Swan, seeks revenge against Akabara (because he killed Yuki) and the traitorous Kayuki. But can Renka really kill Kayuki, whose face looks just like Yuki's?
THE LOWDOWN: Instead of being another gothic-infused action/fantasy/horror manga with pretty faces and lavishly designed costumes, The Record of a Fallen Vampire is kick ass gothic infused action/fantasy/horror manga with beautiful people and costumes that would win at least an Oscar nomination if they appeared in a film. Artist Yuri Kimura can draw pretty pictures, but he can also stage wild, magical battle scenes that look like they leapt off the pages of Tite Kubo's Bleach. Trinity Blood also seems to be another visual reference for this manga. Writer Kyo Shirodaira is in close to a perfect rhythm with Kimura. His words match the fire of the artist's passionate battle scenes.
POSSIBLE AUDIENCE: Fans of manga, anime, and films as diverse as Crouching Tiger, Hidden Dragon, Doctor Strange, Bleach, Blade, and Trinity Blood might find something to like about The Record of the Fallen Vampire.
B+
Last Updated: September 6, 2021 - 08:15