Fairy Tail: Volume 12
By Leroy Douresseaux
September 24, 2010 - 14:57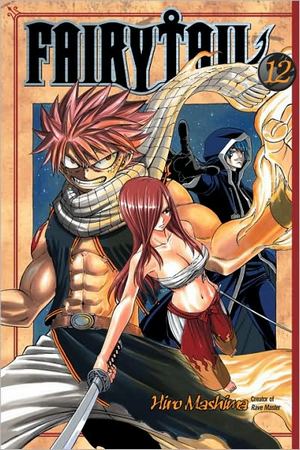 Fairy Tail Volume 12 cover image is courtesy of barnesandnoble.com.
Rating "T" for "Ages 13+"
Young Lucy was a girl wizard who wanted to be a member of Fairy Tail, the famous wizards' guild. Luck brought her into direct contact with Fairy Tail member, Natsu, a powerful young wizard, and Happy, his talking, occasionally winged cat. Now, Lucy is in Fairy Tail, wears the guild's brand on her right hand, and even meets other powerful members like Gray Fullbuster and Erza Scarlet.
In Fairy Tail, Vol. 12, Erza takes on her old compatriot Jellal in at attempt to stop him from reviving the most feared black wizard the world has ever known, Zeref. Meanwhile, the Magic Council launches it magic of mass destruction, Etherion, to stop Jellal, who has a few surprises to reveal. Natsu is determined to assist Erza, but what will it cost the both of them?
THE LOWDOWN: Created by Hiro Mashima (Rave Master), Fairy Tail offers fight comic action similar to Shonen Jump titles like Naruto and D.Gray-man. It is an action fantasy like a Harry Potter movie mixed with the manga, Kekkaishi. Regardless of what I compare it to, Fairy Tail is a fun read – a shonen manga that is a treat for the shonen fan.
POSSIBLE AUDIENCE: A comic fantasy and explosive action manga, Fairy Tail should appeal to the Shonen Jump crowd.
A-
Last Updated: August 31, 2023 - 08:12