Fairy Tail: Volume 3
By Leroy Douresseaux
August 19, 2008 - 18:38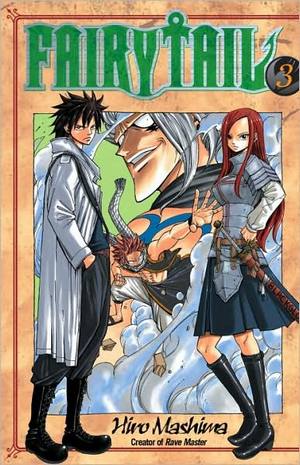 Thanks to barnesandnoble.com for the above cover image.
Rating "T" for "Ages 13+"
Young Lucy is a girl wizard who wants to be a member of Fairy Tail, the famous wizards' guild. Luck brings her into direct contact with Fairy Tail member, Natsu, a boy wizard, and Happy, his talking, occasionally winged cat. Before long, Lucy is in Fairy Tail, wears the guild's brand on her right hand, and even meets other powerful members like Gray Fullbuster and Erza Scarlet.
In Fairy Tail, Vol. 3, the "Dark Guild" Eisenwald and its leader, The Death God Erigor, reveal the true targets of their murderous plot involving a cursed flute that plays music to die by. It is, however, also time for Fairy Tail to offer a bit of revelation of their own as Erza, Gray, and Natsu, form a trinity that is the guild's most powerful team, and Natsu goes (fire) toe to (wind armor) toe with Erigor.
THE LOWDOWN: To put it simply, Fairy Tail is very much like Naruto and Harry Potter jammed together with creator Hiro Mashima (Rave Master) pruning away at this amalgamation until he shaped what became Fairy Tail. This shounen manga (boys' comics), however, is anything but derivative. It's a fight comic on par with Naruto and Bleach, and damn fun to read and look at – thanks to Mashima's art, which looks like Eiichiro Oda's (One Piece) style.
POSSIBLE AUDIENCE: A comic fantasy and explosive action manga, Fairy Tail should appeal to the Shonen Jump crowd.
A-
Last Updated: August 31, 2023 - 08:12