Fairy Tail: Volume 2
By Leroy Douresseaux
March 24, 2008 - 20:40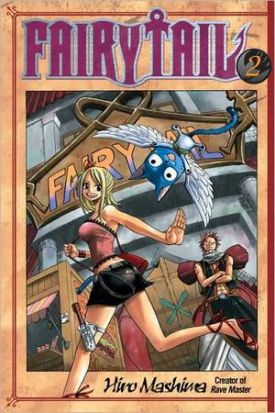 Thanks to barnesandnoble.com for the image.
In the shounen manga (boys' comics),
Fairy Tail
, from
Hiro Mashima
, the creator of
Rave Master
, a young girl wizard named
Lucy
wants to be a member of the famous wizards' guild called
Fairy Tail
. Luck brings her into direct contact with Fairy Tail member
Natsu
, a boy wizard, and
Happy
, his talking, occasionally winged cat, and before long, Lucy is in Fairy Tail and even wears the guild's brand on her right hand.
In Fairy Tail, Vol. 2, Lucy, Natsu, and Happy take on a mission to retrieve a rare book by breaking into the mansion of the book's owner, the notorious Duke Everlue. What the trio doesn't know is that Everlue has killed wizards in the past, and now they are walking into a death trap because Everlue knows they're coming. Also, the "Dark Guild" Eisenwald and its leader, The Death God Erigor, plots mass murder. Powerful female wizard, Erza Scarlet and Natsu's rival, Gray Fullbuster, join Lucy, Natsu, and Happy to stop Eisenwald and find themselves facing a horde of "dark ones."
THE LOWDOWN: Del Rey is releasing the first two volumes of Fairy Tail simultaneously. It is, of course, a marketing ploy for a new series launch, and readers will find this insanely comic mix of the pirate comedy manga, One Piece, and mega-popular ninja manga, Naruto, so fun that they will want two helpings of it. Vol. 2 like the first volume comes with the usual Del Rey extras including a preview of the third volume and extensive notes on the translation in the context of Japanese language and culture.
POSSIBLE AUDIENCE: Fairy Tail is fun and would fit right in with VIZ Media's successful "Shonen Jump" line of manga aimed at young teen boys.
A-
Last Updated: August 31, 2023 - 08:12