Fairy Tail: Volume 1
By Leroy Douresseau
March 23, 2008 - 09:19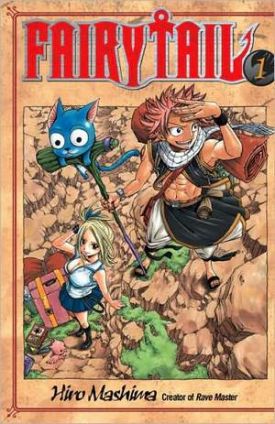 Thanks to barnesandnoble.com for the image.
Putting action and comedy together can be troublesome, but Hollywood has gotten it right – usually in the form of the buddy/cop movie. Blending action, comedy, and fantasy is a recipe for disaster (Terry Gilliam's box office career), but Japanese artists and creators, through manga and anime, seem to get it right most of the time, as is evident in a new manga series from the creator of Rave Master, Hiro Mashima.
Mashima's Fairy Tail (the original Japanese version is currently running in Weekly Shonen Magazine) is the tale of Lucy, a young girl wizard who wants to be a member of the famous wizards' guild called Fairy Tail. Luck brings her into direct contact with Fairy Tail in the form of Natsu, a boy wizard, and Happy, his talking, occasionally winged cat. When lecherous women-stealing pirates kidnap Lucy, it's Natsu and Happy to the rescue.
THE LOWDOWN: Fairy Tail comes across as a manic mix of the pirate comedy manga, One Piece, and mega-popular ninja manga, Naruto, possessing the former's Tex Avery-like lunacy and the latter's martial arts eccentricities. In fact, Hiro Mashima's art here bears more than a passing resemblance to Eiichiro Oda's elongated, rubbery, quasi-big foot cartooning in One Piece. The art, so well drawn with impeccable draftsmanship, sells both the comic fantasy and the explosive fight scenes and will have the reader racing through the book.
POSSIBLE AUDIENCE: Fairy Tail is fun and would fit right in with VIZ Media's successful "Shonen Jump" line of manga aimed at young teen boys.
A-
Last Updated: August 31, 2023 - 08:12