Fairy Navigator Runa: Volume 2
By Leroy Douresseaux
Oct 21, 2010 - 13:31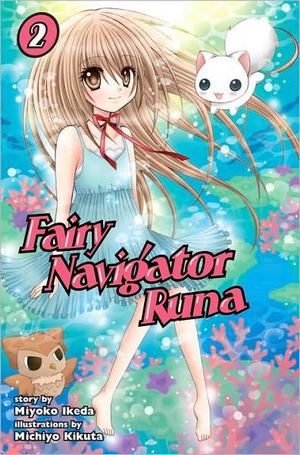 Fairy Navigator Runa Volume 2 cover image is courtesy of barnesandnoble.com.
Rating "T" for "Ages 13+"
Runa Rindō was found in front of Children of the Stars, a school and home for children without parents and children who cannot live with their parents. Before they departed, Runa's parents left her a mysterious pendant. Now, a fourth grader, Runa finds her life complicated by strange occurrences and even stranger people. It's all because Runa is the Legendary Fairy Child.
As Fairy Navigator Runa, Vol. 2 opens, Runa believes that her life has changed too much for her to remain at Children of the Stars, so she decides to leave. Her friends/guardians from the fairy world, Suneri (a girl who can transform into a beautiful white cat) and Mokke (a boy who can become an owl), accompany her on a quest to find the Jewel of Everlasting Time. Later, Runa encounters the mysterious boy, Tai, and his dog, Kazan, in a beautiful port town where she also finds herself in the middle of a mystery involving merfolk and a magic crystal ball.
THE LOWDOWN: One of the most enjoyable magical girl, shojo manga (comics for teen girls) that I've read, Fairy Navigator Runa is cute, but the story is infused with magic. Like a Harry Potter, Runa is magical – filled with a sense of wonder, imagination, and possibility.
POSSIBLE AUDIENCE: Young shojo readers will like Fairy Navigator Runa, and also those who won't admit that they like shojo aimed at readers far younger than they are.
B+
Last Updated: Jun 26, 2018 - 9:28