Fairy Navigator Runa: Volume 1
By Leroy Douresseaux
June 2, 2010 - 15:08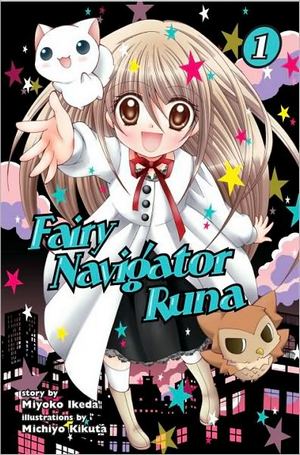 Fairy Navigator Runa Volume 1 cover image
Rating "T" for "Ages 13+"
When she was a baby, Runa Rindō was left in front of Children of the Stars, a school and home for children without parents and children who cannot live with their parents. Left with her was a mysterious pendant. Now, a fourth grader, Runa finds her life complicated by strange occurrences and even stranger people. It's all because Runa is the Legendary Fairy Child.
As Fairy Navigator Runa, Vol. 1 opens, Runa is feeling down because her childhood pal, Sae (whom Runa calls "Chae") is down on her. While trying to figure out what went wrong with the friendship, Runa meets a girl named Suneri and a boy named Mokke. They tell her lots of shocking and crazy things, including that Runa is special, has special powers, and has a great destiny. When Chae is kidnapped by a creature named Kamachi, however, Runa is forced to confront the truth about her magical past.
THE LOWDOWN: Perhaps, Kodansha, the Japanese publisher of Fairy Navigator Runa, hides deep within the bowels of its main offices a generator that produces magical girl shojo manga (comics for teen girls). They should keep the generator running if most of these shojo fantasy titles are as sweet and as fun to read as Fairy Navigator Runa. Compared to more serious fare, this is not great material, but preteen girls may think it is.
POSSIBLE AUDIENCE: With its plucky orphaned heroine, shape-shifting human-animal hybrids, magic, and a connection to the world of fairies, Fairy Navigator Runa will likely appeal to tween girls.
B+
Last Updated: August 31, 2023 - 08:12