Fairy Cube: Volume 3
By Leroy Douresseaux
Oct 27, 2008 - 12:48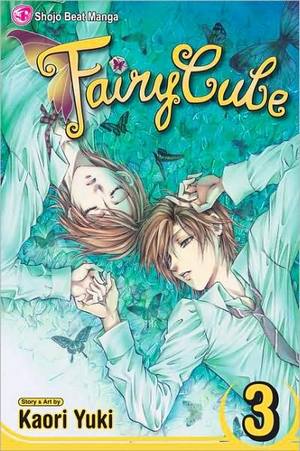 The cover image for Fairy Cube 3 is courtesy of barnesandnoble.com.
Rated "T+" for "Older Teen"
He remembers his late mother as having green hair and red eyes, so Ian Hasumi wonders if he is a fairy, since he can also see spirits. Ian's father, noted novelist Kazumi Hasumi, tells his son that he sees spirits because he has an active imagination. After the lizard-spirit, Tokage, takes over his body, Ian suddenly becomes an actual spirit. With the help of his friend, Rin Ishinagi, a teen girl Ian has known since they were children and who also believes in spirits, Ian must stop a conspiracy by the fairy world against humanity.
In Fairy Cube, Vol. 3, the final volume of the series, Balor, the ancient fairy god, fully emerges from the shadows, as the spell that will free him to come into the human world is nearly complete. Balor reveals his massive conspiracy to merge the fairy world with the human world and to punish humanity for its alleged crime against fairies. Rin may be part of that spell, and the long-hidden connection between Ian and Tokage also comes to light.
[This volume also includes the novella, Psycho Knocker by Kaori Yuki.]
THE LOWDOWN: As creator Kaori Yuki's (Godchild) dense dark fantasy/horror, drama, Fairy Cube, comes to end, I lament what could have been. After a promising start, Fairy Cube was somewhat hampered by Yuki cramming too many characters and subplots into a short series. Three volumes worth of manga is certainly a lot of pages for many narratives, but Kaori Yuki created an epic full of rich darkness that needed to breath over many volumes and seemed painfully squeezed in a short series.
The length of the series doesn't take away from the gorgeous art of Kaori (and her staff) with its jewel like effects and layered tones. The panels are filled with beautiful characters, environments, things, and shapes. I could stare at this all day. It's an inimitable vision of Faerie, one that can almost make you believe that it looks unusual enough to be a representation of a real place.
POSSIBLE AUDIENCE: Fans of Kaori Yuki's other work and fans of dark Faerie will like Fairy Cube.
B
Last Updated: Jun 26, 2018 - 9:28