Comics / Manga / Yaoi Manga
Exotic and Delicious Fate (Yaoi)
By Leroy Douresseaux
November 12, 2009 - 11:58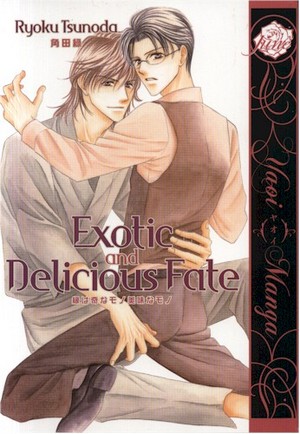 Exotic and Delicious Fate cover image
Drama/Romance; Rated "16+ Young Adult"
In the yaoi manga, Exotic and Delicious Fate, from creator Ryoku Tsunoda (Where Has Love Gone?), a popular restaurant serves mouth-watering meals in its dining room. The real tasty dishes, however, are served in the kitchen and backrooms where workplace intrigue and family drama simmer.
Eight years ago, Kaoru Miyagi was a struggling bartender with only a middle school education. He met a kind benefactor in Kazuki, the right hand man of restaurant CEO, Tachibana. Kazuki gave Miyagi a job at the classy "Tachibana" restaurant, where Miyagi worked his way up to manager. Miyagi is so grateful to Kazuki for taking him under his wing that Miyagi develops something like romantic feelings for the older man.
Enter Satoshi Kasuga. A chef trainee from a sister restaurant, Kasuga is confident in the kitchen and impulsive about expressing his amorous feelings – as Miyagi soon discovers. When he isn't working in the kitchen, Kasuga is working his hands all over Miyagi's body. Miyagi needs to concentrate on his job, especially as the owner's son, Kazutaka Tachibana, has made it clear that he wants Miyagi removed from the restaurant. Can Miyagi resist Kasuga? And what about the secrets the young chef brought with him – including some about Miyagi's past?
THE LOWDOWN: Setting Exotic and Delicious Fate in a restaurant is a good choice on the part of manga-ka Ryoku Tsunoda. This is a yaoi romance that believes the secrets and friends and lovers are dishes best served cold. In fact, readers must especially willingly suspend disbelief if they are going to except the betrayal and deception that works at the heart of this plot. It is worth the effort, as the machinations are quite tasty.
However, the twists and turns of this narrative aren't mere contrivances designed as paths to sex scenes. Tsunoda believes in the Miyagi-Kasuga romantic scenario, and she has put a lot of thought into Miyagi's internal struggles and into the external dilemmas confronting him. There is an aura of authenticity to most every plot element here, an aura accentuated by the efficient storytelling and cozy drawing style. Tsunoda's art is a like a warm and inviting mug of chocolate that makes this boys' love tale, which is part spicy and part tender, undeniably enjoyable.
POSSIBLE AUDIENCE: Readers looking for a love story about a gentle, lonely soul who finds passion and good sex will like Exotic and Delicious Fate.
A-
Last Updated: August 31, 2023 - 08:12