Everyone's Getting Married: Volume 6 manga review
By Leroy Douresseaux
September 17, 2017 - 13:27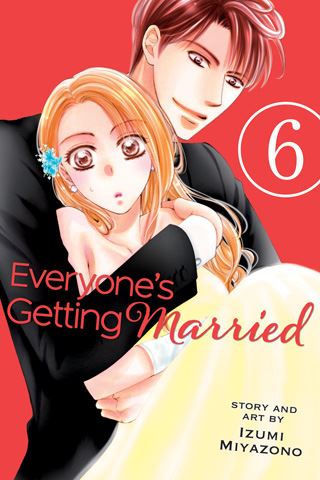 Everyone's Getting Married Volume 6 cover image
Rated "M" for "Mature"
Asuka Takanashi
is a successful career woman in her mid-20s with an old-fashioned dream. She wants to get married and become a housewife. She thinks that she is getting close to that dream, but her boyfriend of five years abruptly breaks up with her to pursue his own career goals. Asuka next meets
Ryu Nanami
, a popular newscaster for the
PTV
network. She finds herself attracted to the rumored womanizer, but Ryu says that he'd rather die than get married.
Everyone's Getting Married

, Vol. 6
(Chapters 25 to 29) opens with Asuka visiting her parents and two siblings. They know that she has a boyfriend, and they want to know about him, although she is still being secretive about Nanami's identity. Suddenly, her father arrives home... with
Akito Kamiya
, a colleague and a young man determined to get what he wants. And what he wants is Asuka. Plus, someone has a birthday, and it's moving day.
[This volume includes the bonus story, "Nanaryu's Miscalculation."]
THE LOWDOWN:
The
Everyone's Getting Married
manga is about a man who loves the woman he won't marry and a woman who loves the man who won't marry her. This manga is a bubbly romance, but the marriage dilemma is always in the background.
Everyone's Getting Married Volume 6
finds creator Izumi Miyazono throwing family, friends, and colleagues into this potentially volatile mix. I think that this is a pivotal volume in this adult romance graphic novel series because the leads will have to make big decisions soon. Plus, Vol. 9 drops a surprise the loving couple won't see until next volume. This is a good enough reason to keep reading.
I READS YOU RECOMMENDS:
Fans of shojo manga about the ups-and-downs of relationships will want the Shojo Beat title,
Everyone's Getting Married
.
A
8 out of 10
Rating: 8 /10
Last Updated: August 31, 2023 - 08:12