Everyone's Getting Married: Volume 5 manga review
By Leroy Douresseaux
June 6, 2017 - 12:04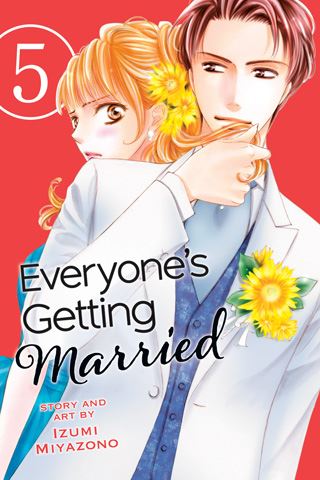 Everyone's Getting Married Volume 5 cover image
Rated "M" for "Mature"
Asuka Takanashi
is a successful career woman with an old-fashioned dream; the 24-year-old wants to get married and become a housewife. She thinks that she is getting close to that dream, but her boyfriend of five years abruptly breaks up with her to pursue his own career goals. Asuka next meets 28-year-old
Ryu Nanami
, a popular newscaster for the
PTV
network. She finds herself attracted to the rumored womanizer, but Ryu says that he'd rather die than get married.
Everyone's Getting Married

, Vol. 5
(Chapters 20 to 24) finds Ryu having a man-to-man, heart-to-heart conversation with
Akito Kamiya
, a salesman at
Society General Bank
. Kamiya's work keeps him in contact with Asuka, and he has been pursuing romantic relations with her. Despite Ryu's warning Akito that he stay away from his woman, the salesman continues his pursuit. He even tells Asuka that he is willing to marry her – something Ryu will not do!
[This volume includes the bonus story, "Nanaryu's Reminiscence."]
THE LOWDOWN:
The Everyone's Getting Married manga presents an edgy romance between a man who loves the woman he won't marry and a woman who loves the man who won't marry her. I am assuming this manga will end with marriage, no?
Everyone's Getting Married Volume 5
finds creator Izumi Miyazono throwing more temptations and obstacles at her star-crossed romantic pair. I think that this is the kind of edgy hook that this manga needs in order to say interesting. The reality is that at some point someone will force himself or herself into a romantic triangle with Asuka and Ryu, and one of those two will break or come close to breaking. This is a good enough reason to keep reading.
I READS YOU RECOMMENDS:
Fans of shojo manga about the pitfalls on dating, engagement, and marriage will want the Shojo Beat title,
Everyone's Getting Married
.
A
Last Updated: August 31, 2023 - 08:12