Everyone's Getting Married: Volume 3 manga review
By Leroy Douresseaux
December 6, 2016 - 09:05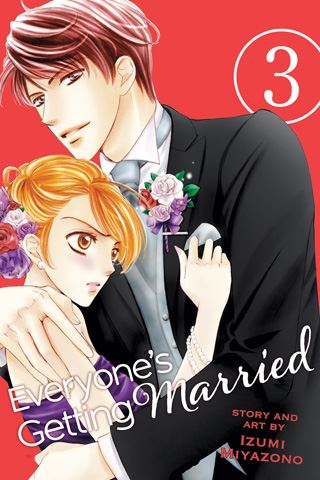 Everyone's Getting Married Volume 3 cover image
Rated "M" for "Mature"
Asuka Takanashi
is a successful career woman with an old-fashioned dream. The 24-year-old wants to get married and become a housewife. She thinks that she is getting close to that dream, but her boyfriend of five years abruptly breaks up with Asuka to pursue his own career goals. Asuka next meets 28-year-old
Ryu Nanami
, a popular newscaster for the
PTV
network. She finds herself attracted to the rumored womanizer, but Ryu says that he'd rather die than get married.
Everyone's Getting Married

, Vol. 3
(Chapters 11 to 15) finds Asuka and Nanami falling more in love. Ah, but there are complications; there are always complications.
Yuko Sakura
, the married actress with whom Nanami carried on a four-year affair, is now working at PTV, and that nearness is causing awkward situations. Meanwhile, Asuka's colleague from another bank,
Akito Kamiya
, decides that he is just the man that Asuka needs to meet her marriage expectations.
[This volume includes the bonus story, "No Smoking for Nanaryu."]
THE LOWDOWN:
The
Everyone's Getting Married
manga is a kooky tale of a man and a woman who apparently love one another. Still, they can't get married. Sure, I'll suspend disbelief.
Everyone's Getting Married Volume 3
finds creator
Izumi Miyazono
teasing her readers with all manner of complications, especially in the form of rival suitable mates for her lead characters. This playful, melodramatic josei is a joy to read, even with the overheated character entrances. I assume the leads are going to get together... eventually. For now, I'm in on this manga.
I READS YOU RECOMMENDS:
Fans of shojo manga for older teen and adult readers will want the Shojo Beat title,
Everyone's Getting Married
.
A
Rating: A /10
Last Updated: February 5, 2023 - 09:06