Interview with Terry Nantier - Publisher of NBM Publishing
By Hervé St.Louis
June 14, 2004 - 17:44
Hervé: NBM has adapted several comic book series from Europe for the English North American market. We asked Terry Nantier, a founding publisher of NBM to give us a few hints about the process of adapting foreign series. We'll be using the recently released The Adapted Victor Hugo, as our example.
Hervé:What got you interested in acquiring foreign material for North American readers?
From the very beginning in 1976 NBM began with bringing in European material as that showed at the time where graphic novels can lead us since Europe is a leader in that field. That was always meant to start us off but not necessarily make us just an importer as many people somehow still like to pigeonhole us. We intended from that start to move from there to publishing American authors as well.
Hervé:How many series have you adapted so far?
Ooo boy, lost count. Series and authors add up into many dozens.
Hervé:Is is easy to negotiate the release of rights with a foreign publisher?
There are certain standard terms that are followed but you do have to prove yourself to many publishers before they'd confide to you their best material…
Hervé:Which major European publisher is the easiest to work with?
Dargaud is wonderful, Casterman has been good. There are many others that we're perfectly happy with.
Hervé:It seems that other publishers have discovered the wealth of material available elsewhere and are in the process of adapting series too. What's your opinion on this?
I love it! Welcome on board, fellahs, been doin' this for over 2 decades! Told ya it's good stuff! There's plenty of good material from Europe which has a very healthy industry. Unfortunately, a lot of it is either hard to translate, too foreign looking or sounding.
Hervé:In the case of DC Comics, there seems to be some crossover with some of the titles. What's the story on that?
Is that a Bilal book? We only did, way back when, one book by Bilal which was a compilation of his early short stories which Hunmanoids did bring back out again, otherwise it was Catalan in the eighties that published him, not us.
Hervé:What's the major barrier to adapting European works for North American audiences?
Cultural differences. The same ones that keep foreign movies in art theatres and not great distribution here, alas. The more action oriented ones don't have the look that American audiences are used to. Not as dynamic. And now the biggest problem is manga has set the standard of what really sells in general bookstores; pocket sized thick B&W books. European comics are based on a larger quality hardcover with beautiful color, including for mass appeal action comics. Hard to adapt to that.
Hervé:Do you feel that there is great interests in Euro comics?
I'm glad to see that there's increased interest as there is a lot of great comics created over there. Having Pantheon publish Satrapi and shortly Joann Sfar's "The Rabbi's Cat", a remarkable GN (we publish his Dungeon series) or Simon & Schuster publish Sfar's "Little Vampire" all helps to draw attention to what we've been publishing for years and been a pioneer at.
Hervé:What about stuff from Argentina? There is a whole universe of top rated material there.
I'm not familiar with that whole universe except as to what makes it over to Europe and there's certainly been quite a few great creators from there as well, sure.
Hervé:Why do you think, is the public more receptive of Japanese material, contrary to European titles?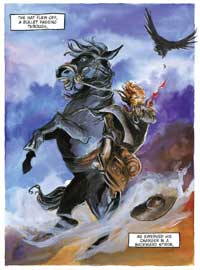 In theory, the storytelling and artwork is much closer compared to what we have in Japan. Kids are the ones embracing manga so much and they grew up on Pokemon, so the look is not strange to them. Much of this new audience for manga seems to create a new fandom which avidly looks for authentic Japanese comics I guess as a cool exotic escape, a little like "Kill Bill" may provide. What works from Europe primarily is the intellectual stuff and the erotic stuff both of which we are well known for!
Hervé: In recent years, it seems that you've concentrated more on local talents than European material. Is there a reason for that?
I dunno, we swing back and forth depending on what we are proposed. This fall we're swing back toward Euro somewhat again in that we're increasingly concentrating on the exciting "New Generation" from Europe headed by Lewis Trondheim. By him and others of his generation, we've got the Dungeon collections starting as well as the beguiling series "Astronauts of the Future". We've also had 2 books out by Christophe Blain, of the same school (Isaac the Pirate and The Speed Abater).
Hervé: Why did you decide to acquire the Adapted Victor Hugo series?
We've been doing well with adaptations of classics. Saw this collection from a fine small French publisher and decided to give it a try. Adapting poetry has never been done yet, it can bring them to a much wider audience.
Hervé: Usually, I suppose you guys hire a translator to adapt the work. But in the Adapted Victor Hugo, there exists tenured translation of the works. Which is easier? Licensing the official English translation, or starting from scratch?
Translating poetry is a tricky business, of course so we prefer pre-existing translations.
Hervé: For Victor Hugo, one would think that a serious and expert translator or literature professor should adapt the work. But for other series, based on current work from France, is it sometimes necessary to get a university professor, or will a regular translator be enough?
For other series, a regular translator is fine, just so turns out ours is that same university professor, an otherwise very cool guy very much into French comics (and an American).
Hervé: Sometimes, publishers hire a real translator, and then use a writer to rework the wordings. Neil Gaiman has done that for Disney, when translating Pricess Monoke from the Japanese. Is this something NBM has ever done?
I'm essentially doing that when I edit the translations.
Hervé: How difficult is it to create lettering for a translated project. Does the foreign publisher provides you with films without any caption or do you have to erase the texts and add new one on top?
They do provide art without text.
Hervé: When you acquire the rights for a translated project, what territory can you resell the book in? I mean, could people purchase the English version in France?
We do export everywhere.
Hervé: How about Canada? It seems to be a very nebulous area. I often find both original and translated books in stores. Sometimes, both are avaible at the same spot. How do you divide the Canadian market?
We sell primarily into the English side of course but whoever wants to carry us, we're available!
Hervé: What has been the response so far from the Adapted Victor Hugo?
Too early to tell. Much of our market for such books are the libraries and that takes time.
Hervé: Has the French publisher being satisfied with the results?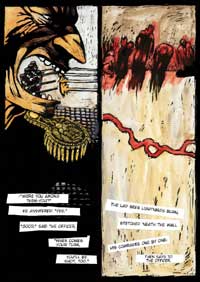 As far as I know!
Hervé: What's the target audience for this book?
College students, lovers of French literature, lovers of great poetry and those curious to see how poems can do in comics… Remember, Hugo is the creator of Les Miserables.
Hervé: What other similar projects are in the works?
We're still doing the complete adaptation of Proust's Remembrance of Things Past, a new volume is due out this fall in France, so ours should follow…
But stateside, this September we're binging back out Peter Kuper's The Jungle, an adaptation of Upton Sinclair's classic which came out from First/Classics Illustrated more than 10 years ago.
Hervé: Where can people get this book?
In some chain stores, better comics stores and on line at www.nbmpublishing.com (as well as Amazon & BN.com). Or look for it soon at your library!
Last Updated: September 6, 2021 - 08:15