Comics / Comic Reviews / Marvel Comics
Essential Daredevil: The Man Without Fear Volume 1, Part Two
By Andy Frisk
February 13, 2009 - 07:35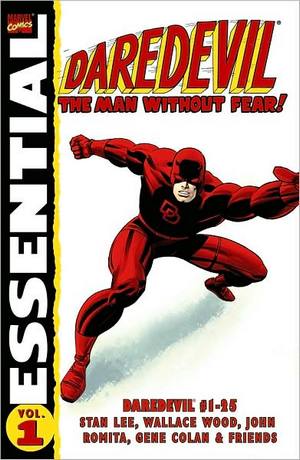 Essential Daredevil 1 cover image is courtesy of barnesandnoble.com.
Part 2
In Part 1 of our look at Essential Daredevil Vol.1, we took an in depth look at some of Daredevil's early villains such as Stiltman and The Matador as well as the brilliance of Stan Lee's storytelling, which brought a new level of realism to the medium of comic books.
In Part 2 of our look at this volume of early Daredevil stories, we'll examine Daredevil's interactions with some of the other Marvel heroes operating at the time and how Stan Lee continued to make use of his great storytelling ability to weave the characters of the Marvel Universe together.
Interestingly enough, and keeping with Stan Lee's real world take on superheroes, its not Matt Murdock nor his alter ego Daredevil who interacts with another Marvel hero first in this series but Foggy Nelson, his partner, and Karen Page, his and Matt's law office secretary. The Thing of Fantastic Four fame pays a visit to the law office of Nelson and Murdock for legal advice on, of all things, the lease on "their skyscraper shack." There's a moment of classic Ben Grimm, aka The Thing, humor when he accidentally breaks the door to the lawyers' office on the way in and before they "get their tonsils in an uproar" Ben "instant welds" the door back together basically by squeezing it back together. Matt actually isn't in the office at the time, as he's out and about as Daredevil, but Foggy assures Ben that Matt will take a look at their place and lease. This first appearance of another Marvel hero in Daredevil's series and the reason for his appearance helped to set the tone for the book and character of Daredevil for years to come. Many of Matt's trials, tribulations and adventures would stem from events related to his day job and not just his actions while running about in his horn studded cowl.
Daredevil's next encounter with a Marvel hero comes when Namor the Sub-Mariner (who actually might just one of comics' first anti-heroes) seeks our Foggy and Matt's law office to seek legal representation in order to pursue a case against the human race for claim of his and his fellow Atlanteans' "birthright" and "rightful place on the surface of the Earth." When Matt tells Namor he would be making a "laughing stock" of himself by pursuing such a suit, Namor decides to go about getting his case heard by other means; namely by destroying enough property to get arrested so, as Namor states on page 5 of the collected issue, "They'll HAVE to take me to court!" Matt tussles with Namor as Daredevil and gets pretty handily thrashed but Namor saves him by rescuing him from underwater and not killing him because Matt as Daredevil fought him so valiantly. Namor eventually surrenders to the authorities and goes on trial, but when his trial is postponed and an uprising occurs in Atlantis during his absence, he once again thrashes Daredevil but vows to "not injure any humans" as he returns to Atlantis our of respect for Daredevils valor during their final battle.
The interesting way of having Namor pursue his claim to the surface world by attempting to follow surface world laws and sue the human race for his "birthright" is at once incredibly outrageous as some of Daredevil's early villains names, but like the stories involving these villains, so relevant as a plot device we can't help but laugh at its genius. How else could you bring Namor into a Daredevil tale? The two characters couldn't be more different yet Stan Lee uses Namor's arrogant yet noble nature to drive him and Daredevil to a confrontation.
We get some more of this great Stan Lee storytelling when he brings Spider-Man over to Daredevil's book as a guest star. Spider-Man shows up in issue 16 of the collected volume and again Daredevil finds himself at odds with another super powered hero who outclasses him the strength department. We get a story where another villain, The Masked Marauder, shows up with a plot to turn Spider-Man against Daredevil to keep them both busy busting each others heads while he pulls off his latest caper. The Marauder basically dresses a bunch of his goons up like Daredevil and turns them loose in the city to take cheap shots at Spider-Man to force a confrontation between Spider-Man and the real Daredevil. Eventually, they tussle and Spider-Man, through his Spider-Sense, while swinging through the city, senses Daredevil in the offices of Nelson and Murdock. Spider-Man can't believe that a blind man could be The Man Without Fear so he grabs Foggy in preparation to deck him assuming he must be Daredevil although he's "heavier…softer looking than I expected" (page 20). Eventually Daredevil and Spider-Man tussle again but end up battling The Marauder's goons thus foiling his dastardly schemes.
What is so interesting and engaging about this first encounter between Spider-Man and Daredevil is that both heroes end up hitting each other more than the bad guys and Stan Lee, keeping with the tradition of the progressiveness of the era these tales were written in, the 1960's, shows us the close-mindedness that exists when one doubts the possibilities in life of things being done by and overcome by those who at first appear helpless, namely the "blind" Matt Murdock. Spider-Man immediately dismisses that Murdock could be Daredevil because of his blindness, not for once even considering that he is viewed by his Aunt May as a frail and feeble boy while he's one of the strongest heroes operating due to his enhanced Spider-Strength. Peter Parker has to play the role of frail and feeble boy to avoid his Aunt May being put in harm's way due to his alter ego as Spider-Man, much like Matt Murdock must play up his "helplessness" due to his blindness to protect those close to him. If anyone, Spider-Man/Peter Parker should be able to see through this guise of Matt Murdock's since he himself is in a similar situation. Its seems as if Stan Lee is providing us with yet another cautionary tale that even though we might be a hero, care about our fellow men, and use our talents to benefit our fellow men, if we follow our close-minded assumptions on the capabilities of others who may appear incapable of great accomplishment due to a handicap or station in life we are selling our fellow men short.
When we stop and ponder the deeper levels of meaning Stan Lee seems to be communicating to us with his tales of silly named villains and brightly costumed heroes, we really get a feel for the thought that went into these tales and the validity of comic books to be a powerful medium to tell strong, enlightening and beneficial tales. Thanks Stan for sharing your vision with us with these tales that even today, 45 years later, are still relevant.
Last Updated: September 6, 2021 - 08:15