Comics / Manga / Yaoi Manga
Endless Rain (Yaoi Manga)
By Leroy Douresseaux
Apr 26, 2008 - 8:48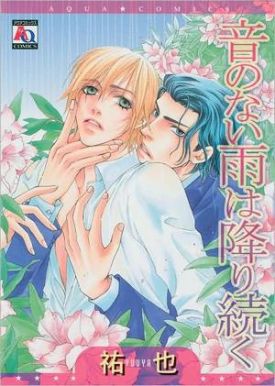 The June edition will keep the original Japanese Aqua Comics cover image, but change the captions.
Akira Kasuga
and his young brother,
Nao
, are the illegitimate sons of the wealthy and powerful businessman,
Jun'ichirou Kasuga
. When their mother,
Ryouko
, who was Kasuga's mistress, dies, the boys reluctantly go to live with their father, who is still seemingly dismissive of them.
Kasuga assigns one of his executives, the tall, dark, and handsome Kyouya Hyougami, to look after Akira and Nao. Kyouya even gets a company job for Akira, but Akira can't stand how Kyouya is always coming on to him. However, submitting both to his father's will and Kyouya's advances may be the only way that Akira can continue to take care of underage Nao, who is blind and needs expensive medical care. But is Akira really acting because he doesn't have a choice, or is he falling for the cold, ruthless, and oh-so-mysterious Kyouya?
THE LOWDOWN: With lots of really physical sex, Endless Rain can appeal to one's prurient interests. However, manga-ka Yuuya's deep character drama, full of shifting alliances and shattering truths, is an epic, whirlwind romance contained in one handy volume. Yuuya is pretty good at cartooning the human figure, and his specialty is drawing large expressive eyes that are, 9 out of 10 times, right on the money when trying to depict the characters' emotions and moods.
POSSIBLE AUDIENCE: Readers who want hot sex and engaging drama will find it in Endless Rain.
B+
Last Updated: Jun 26, 2018 - 9:28