Eensy Weensy Monster: Volume 2
By Leroy Douresseaux
March 21, 2011 - 11:30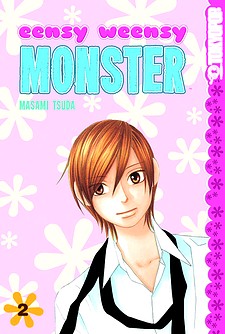 Eensy Weensy Monster Volume 2 cover image
Rated "T" for "Older Teen 13+"
Plain Jane Nanoha Satsuki happily lives in the shadow of her two pals: blonde bombshell, Nobara Ryuzaki, and brilliant student, Renge Mido. The one thing that does irritate Nanoha is the new student at Yotsuba High School, Hazuki Tokiwa AKA the "Prince." Hazuki's snobbish, arrogant demeanor infuriates Nanoha. There is a little monster inside Nanoha, and it wants to attack Hazuki.
As Eensy Weensy Monster, Vol. 2 begins, Hazuki has to admit that he loves Nanoha. However, Hazuki has never really loved anyone but himself, and now, this unfamiliar territory called love is making him suddenly act cold and aloof towards Nanoha. She can't figure out why Hazuki is distant toward her, but then, she also gets cold feet about Hazuki being in love with her.
THE LOWDOWN: Because so much of its story focuses on the inner thoughts and monologues of the lead characters, Eensy Weensy Monster is different from the standard shojo high school romance. The fun in reading this series is that the reader is privy to both Nanoha and Hazuki's thoughts, so we know that their doubts about each other are groundless and simple misunderstandings. Watching them struggle to get a clue when they are so clueless is delightful, so much so that, in this series, it never gets old. Even as Eensy Weensy Monster ends, it is clear that creator Masami Tsuda and her stars need a sequel.
POSSIBLE AUDIENCE: Readers looking for shojo manga young-romance-with-a-twist will like the beautifully drawn Eensy Weensy Monster.
A-
Last Updated: August 31, 2023 - 08:12