Comics / Comic Reviews / More Comics
Earp: Saints for Sinners #1
By Leroy Douresseaux
January 13, 2011 - 07:01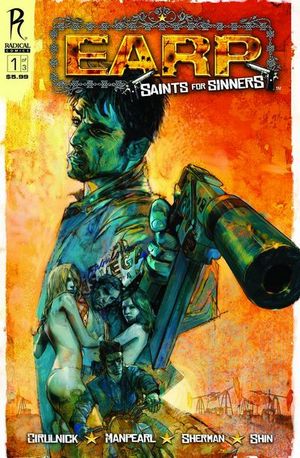 Earp: Saints for Sinners #1 cover image
Created by movie folks, Matt Cirulnick and David Manpearl, Earp: Saints for Sinners is a modern-day re-imagining of a classic Western hero, Wyatt Earp. This new Earp story is set in a near future after an event called "Black Thirty" sets off a second Great Depression.
Out of the chaos rises the celebrity bank robber, a kind of Robin Hood meets John Dillinger. There was, however, one man who brought them in to justice and shot down the ones he didn't bring in, and that was Wyatt Earp. Earp collared more most-wanted men than anyone in history, but after a violent assignment claimed the life of his brother, Virgil Earp, Wyatt became a businessman in the only boomtown left in America, Las Vegas.
In Earp: Saints for Sinners #1, Wyatt's younger, brother, Morgan Earp, shows up bloodied and beaten. That sets off Wyatt's memories of the last several years, recounting how he went from NYPD to the U.S. Marshals. Now, Morgan is wanted by the only law that matters in Las Vegas, the Pinkertons, and their leader, Allan Pinkerton will use this opportunity to get rid of the Earps, once and for all. Will Doc Holliday arrive in time?
THE LOWDOWN: If you don't get confused by the constant use of flashback in this first issue, you will love this shoot 'em up as comic book called Earp: Saints for Sinners. It is a bit longish, and the characters seem as if they're not quite out of the development stage. The art, with shimmering, watercolor-like hues, is perfect for this series' balance of violence and beauty. Not only does the color make the violence pulsate, but it also makes the various cities and locales seem exotic. This comic, however, owes more to modern crime films (like Heat) than it does to Western cinema.
POSSIBLE AUDIENCE: Readers who like anything Wyatt Earp or violent crime comics will like, Earp: Saints for Sinners.
B
Last Updated: September 6, 2021 - 08:15