Comics / Comic Reviews / More Comics
Earp: Saints for Sinners #2
By Leroy Douresseaux
March 2, 2011 - 10:05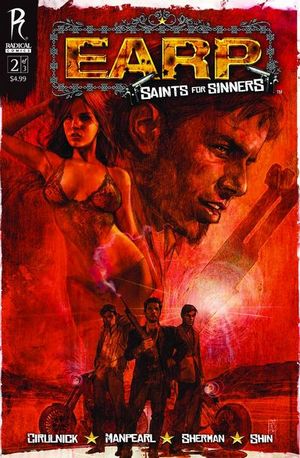 Earp: Saints for Sinners #2 cover image.
From Radical Publishing, Earp: Saints for Sinners is a modern-day re-imagining of the classic Western hero, Wyatt Earp. Created by Matt Cirulnick and David Manpearl, this new Earp story is set in a near future after an event called "Black Thirty" sets off a second Great Depression.
Out of the chaos rose a new type of bank robber, and Wyatt Earp was the man to bring them in to justice and to shoot down the ones he didn't bring in. Earp collared more most-wanted men than anyone in history. After a violent assignment claimed the life of his brother, Virgil Earp, Wyatt became a businessman in the only boomtown left in America, Las Vegas.
In Earp: Saints for Sinners #2, the tension rises as Robin Hood takes on John Flynn, billionaire owner of the Flynn Casino. Allan Pinkerton and his private security group, the Pinkertons want Wyatt Earp to pay them protection money for his business, AOK Saloon. And a woman enters the conflict.
THE LOWDOWN: If you still aren't confused by the constant use of flashback in Earp: Saints for Sinners, you will love this violent modern-day, quasi-science fiction twist on Wyatt Earp. Full of tough guys, hardened criminals, and scantily clad women, however, this Earp comic book is more Michael Mann than it is John Ford. Colorful and fast-paced, one minor thing wrong with this is that it doesn't seem fit the floppy, standard-sized comic book format. This is a graphic novel and should be published as one hardcover graphic novel.
POSSIBLE AUDIENCE: Readers looking for guns and action will want Earp: Saints for Sinners #1.
B+

Last Updated: September 6, 2021 - 08:15