The Earl and the Fairy: Volume 3 manga review
By Leroy Douresseaux
Aug 28, 2012 - 14:44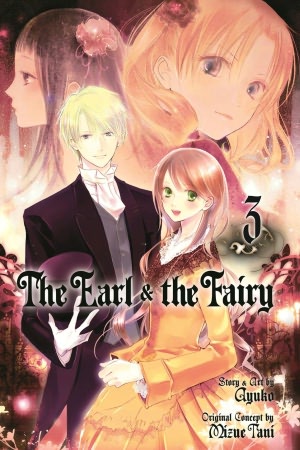 The Earl and the Fairy Volume 3 cover image is courtesy of barnesandnoble.com.
Rated "T" for "Teen"
Lydia Carlton is a young woman living in 19th century England. She is a fairy doctor, a specialist who can see and talk to fairies, an ability which allows her to resolve problems (or attempt to) between fairies and humans. During a trip to London to visit her father, a young man, Edgar Ashenbert, rescues Lydia from kidnappers. A nobleman sold into slavery, Edgar is also tied to the Fairy Realm as the Blue Knight Earl.
As The Earl and the Fairy, Volume 3 opens, London is in the grip of fear. Someone (or something, of course) called the Fogman is snatching up children and young people all over town. Lady Doris Walpole has been missing for three days. Is she a victim of the Fogman? Lydia has been asked to help find her, and her investigation leads her to think that the Fogman has ties to Edgar's dark past.
THE LOWDOWN: Every now and again, I come across a manga title that is new to me, but seems tailored made for my reading tastes. The Earl and the Fairy manga is one of those titles. Manga creator Ayuko adapted this manga from a fantasy novel of the same title by Japanese author, Mizue Tani. To semi-quote Curtis "50 Cent" Jackson, I love this manga the way a fat kid loves cake. Why do I like The Earl and the Fairy so much?
I think I love the London setting, and the role that fog plays in the series (at least, in this part of the narrative). I like stories about fairies, and I have to admire the restraint in which Ayuko uses actual fairy creatures in this story. Judicially using flashbacks, Ayuko builds the mystery around her characters, making even the little details about them intriguing. Plus, Ayuko makes excellent use of Nico the cat/fairy as a kind of Greek chorus and quasi-narrator.
POSSIBLE AUDIENCE: Readers who like gothic and fairies will like The Earl and the Fairy.
Rating: A /10
Last Updated: Jun 26, 2018 - 9:28