Nintendo Bores, Disturbs and Surprises at E3 2009 Media Briefing
By Eli Green
June 3, 2009 - 18:00
Nintendo's Media Briefing at E3 this year was, to put it simply, a borefest. So much so that a couple of big surprises at the end couldn't even save it from that designation. It began as most of their conferences do, with a little intro video showcasing various Nintendo products and people playing them. After the video, Cammie Dunaway, Nintendo's Executive Vice President of Sales and Marketing, took the stage to do the regular intros and talk about how the industry has considerably expanded over the past couple of years, thanks in large part to Nintendo, of course. Finally, before moving on to the presentations, she introduced the Briefing's theme saying, "It's clear. Everyone's gaming".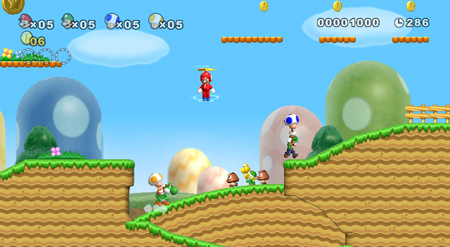 And so began the usual onslaught of video game premieres and statistic reports, except that it wasn't really much of an onslaught at all as far as the video game premieres were concerned. Dunaway moved on to introduce the first game, another remake of the original Super Mario Bros., this time for Wii, aptly titled New Super Mario Wii, and introduced Bill Trinen from Nintendo's Treehouse Group to talk about the game's features while Dunaway and three other players from the Treehouse Group take the stage to demo the game. Essentially, the game ends up as a multiplayer version of the original Super Mario Bros., with some graphics upgrades, simultaneous multiplayer for up to four players, some new items and a couple of basic flick motion control elements.
The game looks pretty interesting on its own and is probably a lot of competitive or cooperative fun, depending on how you choose to play, but the way they were playing on stage, even with Trinen explaining little things as they played, like blocks being able to pop out items for all four players, the new propeller suit item or the battle for coins that can result when there are a lot of players, still felt dull and drab. The game will probably be fun for people playing it, but they sure didn't make it look that way. Worse yet, the fact that Nintendo is making the game in the first place feels like a bit of a cop out to me. I've got nothing against classic games, I really enjoy them. But you can already get the original Super Mario Bros. for Wii from the Virtual Console. In any event, New Super Mario Bros. Wii is slated for release this holiday season.
After the short demo, Dunaway took back the main stage to talk about the success of Wii Fit and how "some people never played games until they stepped on the Wii Balance Board" (not an exact quote necessarily, but you get the gist of it). She continued on to mention some stats about the game and its popularity – over 15 million copies of Wii Fit sold, etc. – and then moved on to introduce Wii Fit Plus. She talked a bit about the developers taking different players into consideration when making the game, how to make the game fit better for each player and make it more custom fitted to your preferences and workout style. She also made sure to mention that the progress tracking will be improved, including keeping track of the total calories that you burn.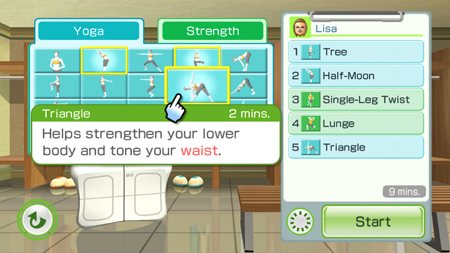 And she continued to talk, about how it's about more than just working out and it's about fun too, about the 15 new balances games, including the new Mario balance game where you'll get to, sort of, step into Mario's shoes and make your way through an obstacle course of projectile objects. Aside from a couple of videos playing in the background as Dunaway spoke about the features in Wii Fit Plus, they didn't really show it off. She did mention that it would be available as a standalone disc, for people who already have the Wii Balance Board, when it releases this holiday season.
With all of that out of the way, Dunaway introduced Reggie Fils-Aime, President and COO of Nintendo of America, to the stage. He spoke about all the innovations Wii has introduced to date – the Wii Remote, the Nunchuck, the Wii Balance Board, etc. – and finally introduced the Wii MotionPlus attachment for the Wii Remote. He mentioned that won't necessarily notice the difference just by looking at it, but you've got to play it. And so they began rolling the trailer for Wii Sports Resort (slated for release on July 26th).
After that though, Bill Trinen came back out to the stage to actually demo the game. The game actually begins with you jumping out of an airplane. You can fall in formation, free fall, do flips or dive. It wasn't all that impressive to watch, as he was just turning the Wii Remote in his hand, but he did explain that it gives a good idea of the added accuracy of Wii MotionPlus and a basic introduction to the game. Fair.
He then went on to some a slightly more impressive game, Crossbow Archery. He also made sure to let everyone know that the game was designed for both right and left handed players, and then continued to show how motions are now represented in real time with pinpoint accuracy. The Wii Remote acts as the main bow, and the Nunchuck as the bow string or arrow (whichever you prefer, it doesn't really make a difference). You've also got to compensate for distance, wind, and even moving targets. "It's not about doing the controls. It's about what comes naturally," Trinen said before moving on to a one on one Three Point Basketball Challenge against Fils-Aime.
The Three Point Challenge demonstrated that you actually have to reach down to pick up the ball and then shoot like you would naturally. In other words, no more playing Wii Sports by flicking the remote or using your feet. That's about all they showed, but it did look like the development team has made quite a bit of progress since last year's Briefing.
Fils-Aime then took over the stage to talk about games that will integrate Wii MotionPlus, including Tiger Woods PGA Tour 10 (June 8th), EA SPORTS's Grand Slam Tennis (June 8th), and SEGA's Virtua Tennis 2009. It would have been nice to see some of those games in action, but I guess that would have made things less boring (or taken the focus off of the first party titles?). Film-Aime did take time to mention the work that Ubisoft has done with Wii MotionPlus on Red Steel 2,being particularly sure to point out that it will only work with Wii MotionPlus. I guess it's a good thing it will be bundled with the game when it releases this holiday season. He then continued on to introduce a couple of new titles from Square Enix. The first was the Wii exclusive Final Fantasy Crystal Chronicles: The Crystal Bearers and the other, Kingdom Hearts 358/2 Days for Nintendo DS.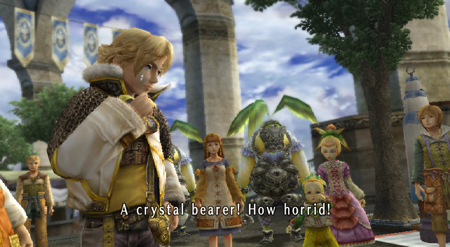 Things then took a turn towards Nintendo DS and DSi titles. Fils-Aime introduced a new Mario & Luigi adventure for DS, called Mario & Luigi: Bowser's Inside Story. It's a new title in the popular RPG part of the Mario franchise. It follows the story of the two
brothers after they get shrunken down to minuscule proportions and sucked into Bowser's stomach. If it's anything like the previous
Mario & Luigi
titles, it should do quite well when it releases this fall.
Finally, before handing the stage back to Dunaway, Fils-Aime announced that the Golden Sun franchise is coming back, on DS. Dunaway then showed off some images and footage of female oriented DS titles, including Women's Murder Club: Games of Passion and then showed some footage from Ubisoft's new DS franchise, called C.O.P.
Dunaway went on to talk about the DSi and some stats. Sales have surpassed 1 million units. The key difference between the Lite and the DSi is customization, etc. Flipnote studio animator will be available to DSi users this summer. Mario vs. Donkey Kong: Minis March Again! will be available as a download only, meaning it will be a DSi exclusive, on June 8th. WarioWare D.I.Y. will allow you to create your own mini games and is currently slated for release at the end of the year.
Then came the funniest announcement of the Briefing. Nintendo's doing Facebook Connect with the DSi! After Microsoft announced it the day before, the only thing that would have been funnier is if Sony announced that it would be coming to Playstation 3 as well. Sadly, they didn't. They showed a few pictures but, again, no demo!
Dunaway then introduced Saturo Iwata, Nintendo's Global President, to the stage. Making an already boring situation worse, Iwata spoke about statistics and market strategy for a few minutes, and then followed it up with talk about where Nintendo is going with the titles mentioned earlier in the briefing.
Finally, Iwata says he's going to introduce a new way to get in touch with yourself through games. That's when I got my hopes up. I shouldn't have. What I saw on the screens behind him made me shudder from head to toe. The Wii Vitality Sensor. Attach one end to the Wii Remote and place the other over your finger, and it takes your pulse while you play. Sigh. Another accessory. I would be willing to try it out, depending on the related game of course, but just thinking about the thing as I write this is making me shudder, not because it's another accessory, but because the thought of something taking my pulse while I play is a bit unnerving.
Dunaway then comes back out to introduce another Mario title. I sighed and shook my head at first, but then I saw the trailer. This one's got Yoshi in it! No way! It's Mario Galaxy 2. Well, you could figure it out by the gameplay, but it was definitely the most exciting piece of news from the Briefing by that point.
Fils-Aime then came back on stage to talk about third party games, specifically Wii exclusive titles. He showed off some footage from SEGA's The Conduit, followed up by Resident Evil: The Darkside Chronicles, and rounded things out with an announcement that Electronic Arts is making a prequel to its recent, highly successful horror game, Dead Space,called Dead Space Extraction.
By this point, I had just about had enough and was glad that it was clearly coming to the end of the Briefing. The last few announcements were cool, but the damage was done. There were so few demonstrations done, and so many statistics reports, that no matter how cool the next announcement was, and it definitely was, it wouldn't matter.
Fils-Aime began speaking about a collaboration with a third party developer well known for its more adult oriented games. It turns out that the developer he was talking about is Team Ninja, the folks behind Ninja Gaiden. The lights went down and a trailer (below) came on the screens. The style is clearly Japanese, but it's not easy to make out where they're going with it, until Samus Aran suddenly appears. The project looks to be a Ninja Gaiden style Metroid game called Metroid: Other M.
And that was it. Fils-Aime made the closing remarks and the Briefing ended. All in all a borefest with a couple amazing, but certainly not redeeming, surprises at the end. That said, the poor quality of this year's Media Briefing does not mean that Nintendo will have a bad year. The Wii is still quite popular, and the release of games like Wii Fit Plus, Wii Sports Resort and New Super Mario Bros.Wii will keep things going just fine as far as mainstream consumers are concerned (and that's a very large market now).
There's just so much more they could have done, and so much more that they could have shown off from third party publishers. Even if the games were multiplatform it would have been worth it to show. And while Fils-Aime actually took the time to remark that Nintendo isn't abandoning hardcore gamers, they didn't really take the time to make sure that message sunk in. They decided to go with statistics charts and market analysis instead.
For more trailers and other videos from E3 2009, check out our Viddler Channel.

Last Updated: September 6, 2021 - 08:15