Comics / Manga / Yaoi Manga
Dry Heat (Yaoi)
By Leroy Douresseaux
May 24, 2010 - 20:27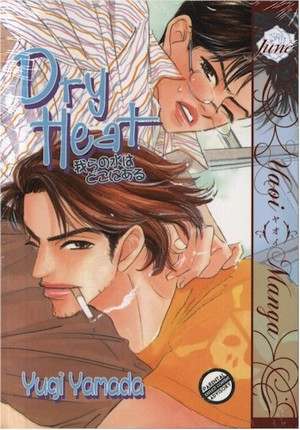 Dry Heat cover image is courtesy of Anime Castle Books.
Comedy/Romance; "18+ Mature"
In Dry Heat, a yaoi manga from Yugi Yamada (Laugh Under the Sun), parted lovers reunite.
Once upon a time, Itaru Abe had a young charge, a playful youngster named Tatsuhiko Sendou. Tatsuhiko wanted to marry Itaru when he grew up. The last time Itaru saw Tatsuhiko was the day he was sent away to boarding school, and he can still hear the young lad calling his name, "Itaru!" as the boy was forced into a waiting car. Five years later, Itaru works for Sendou, the family business, and he is assigned to find Tatsuhiko, who has gone missing from the school he attends, S Academy. Itaru is about to discover that Tatsuhiko has changed and leads a new life with new friends and lots of chaos.
THE LOWDOWN: "Dry Heat" is not a good title for what is essentially a yaoi graphic novella about memory and change. Sexual attraction and, to a lesser extent, sex do play a part in the narrative. However, the focus is on the intense longing, physical attraction, and emotional attachment that can lead to physical relationships.
This is a complicated romantic comedy. It isn't often that there is as much action going on in character's heads as there is action on the page. Dry Heat is occasionally dark and edgy, and many of the subplots have an air of mystery about them. These complications, these theatrics of drama, are precisely what make Dry Head such an engaging read. The characters are always full of surprises. Yamada gives the characters dark eyes surrounded by thick, black lines for eyelids. The eyebrows arch and dance over the eyes in nimble displays of emotion and feeling. Thus, the characters come across as passionate about their lives and circumstances and in turn, they keep the readers interested in them.
POSSIBLE AUDIENCE: Readers looking for yaoi romance with a dark side and quirky, engaging characters will like Dry Heat.
A-
Last Updated: August 31, 2023 - 08:12