XSEED Releases New Screenshots for Drill Sergeant Mindstrong
By Eli Green
May 6, 2009 - 15:30
XSEED Games released a group of fresh screenshots for its upcoming, and first, WiiWare title, Drill Sergeant Mindstrong, today. Included with this update are screenshots from some of the punishment games, as well as a number of insults you'll see in the game.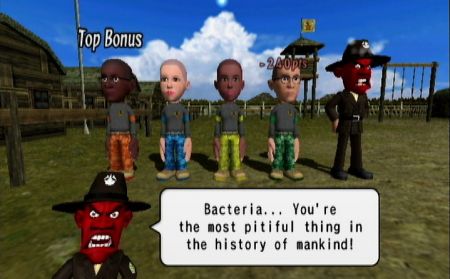 Don't take it personally. He's just trying to motivate you. Really.
Drill Sergeant Mindstrong is a new take on brain training games (aside from the graphical standard), in which you are tested not only mentally, but physically as well. Go at your own pace and choose between the four different mini-games – Hell Roll Call, Hell March, Hell Shooting and Hell Calculation – in Focus Training mode, or leave yourself to the mercy of the Drill Sergeant, and let him randomly select from all four mini-games in Basic Training mode.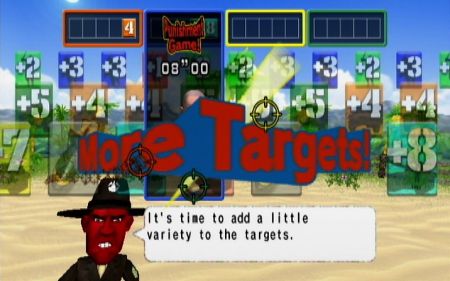 Things get a little more challenging.
In Hell Roll Call, the Drill Sergeant gives each player a nickname and you must follow his various commands when he calls yours out. Hell March will have you swinging the Wii Remote to the Drill Sergeant's rhythm while answering a variety of yes or no questions, ranging from math to environment observations and more. In Hell Shooting, you'll have to quickly hit the targets the Drill Sergeant calls out. Don't forget to reload though. Finally, Hell Calculation is target shooting and quick calculation combined.
Think you're out of the woods already, eh? Think again. Perform poorly and the Drill Sergeant will lose his temper and make you do a punishment game. Punishment games must be completed before you are allowed back into the mini-game to continue collecting points.
Hit the floor and crawl, maggots!
Drill Sergeant Mindstrong was set to release for download over WiiWare in late April, but the release has been postponed and it is now expected to be available for download some time later this month for 800 Wii Points. Drill Sergeant Mindstrong is rated E10+ for Everyone 10 and up.
Image Gallery:

Last Updated: September 6, 2021 - 08:15