Dragon Sister!: Volume 1
By Leroy Douresseaux
Dec 21, 2008 - 12:19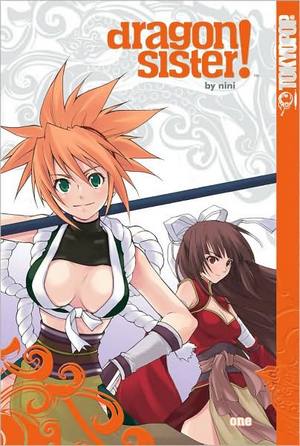 Dragon Sister 1 cover is courtesy of barnesandnoble.com.
Action/Comedy; Rated "T" for "Teen-Age 13+"
Near the end of the Han Dynasty (184 A.D.), the Chinese government is corrupt and incompetent. Its inability to function spurs the Huang Jin Rebellion (Yellow Turban Rebellion). The rebellion is led by the Zhang brothers: Zhang Jiao, Zhang Bao, and Zhang Liang.
Seeking to stem the tide of resistance against them both in the present and the future, the brothers use magic to make sure that the heroes that will face them are females, but the misuse of that magic also transforms the brothers into a trio of women. Two mighty female warriors do arise to fight the Huang Jin Rebellion – Zhang Fei Yide and Guan Yu Yunchang, but their dreams of joining the Imperial army to fight the rebellion are dashed because they are females. However, the girls have a chance encounter with a young man, a maker of straw mats named Liu Bei Xuande. A descendant of royal blood, Lie Bei forges a pact with the Zhang Fei and Guan Yu to form a volunteer army to fight the rebellion.
In Dragon Sister!, Vol. 1, Zhang Fei, Guan Yu, and Liu Bei continue to wage war against those three deceptively adorable Zhang sisters. However, a high-ranking female officer in the Imperial army, the voluptuous General Dong Zhuo, wants the girls. If Liu Bei "gives" them to her, she will make him an officer.
THE LOWDOWN: It's an epic story with lots of characters – some of them rather engaging, and it's based on the 14th century Chinese historical novel, Romance of the Three Kingdoms. However, when it comes to Chinese historical action, Dragon Sister! is no Ying Xiong. It has a lot of potential, but the execution is mediocre. Dragon Sister! is not terrible; it's just not terribly good. The narrative is clunky, and there are too many characters crowded into the story for even the leads to stand out in this crowd. Creator nini draws some occasional Adam Hughes-like cheesecake, but the art is mostly average.
POSSIBLE AUDIENCE: Young readers may enjoy this; older readers will find Dragon Sister! lightweight.
B-
Last Updated: Jun 26, 2018 - 9:28