Comics / Manga / Yaoi Manga
Yugi Yamada's Don't Blame Me 2
By Leroy Douresseaux
Jul 28, 2008 - 13:18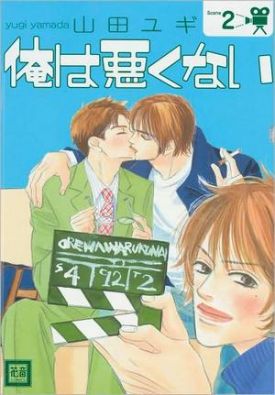 June Manga's edition will keep the cover illustration but replace the Japanese lettering with English cover copy.
Rated "M" for "Mature Audiences 18+"
Thirteen-year-old Makoto Koizumi looks up to his cool, older cousin Toshiaki "Toshi" Kaji, who always told Makoto to go for his dream and to never be a boring adult. When Makoto drops in on Toshi for a surprise visit, he discovers that Toshi has given up on his dream of being a great filmmaker.
Don't Blame Me, Vol. 2 looks back at Toshi's years as a wayward college student, in particularly the time he spends as a member of a film club. There he meets his future lover Ikuroh Nakamura, a film buff and budding director, and the bumpy road to romance begins.
There is an extra story at the end of the volume, entitled "Please Take Me In." It's about the reunion of two high school friends. Back in school, Kazuo bossed around the smaller, younger Hiromichi Tateishi. Now, Tateishi is taller – a strapping, blond stallion, and Kazuo finds himself depending upon Tateishi for his livelihood. Which one is on top now, Kazuo?
THE LOWDOWN: This second (and concluding?) volume of Don't Blame Me by Yugi Yamada lacks the comic spark of the first volume, which came across as a manga version of the American TV series, "Friends." This edition focuses mostly on Toshi and Nakamura, which can be both good and bad – depending upon the scene. Sometimes it's fun watching them; other times, the duo is just in a rut, and so is the narrative.
On the other hand, "Please Take Me In" is both funny and romantic, in an unusual way, and overall, strengthens this volume.
POSSIBLE AUDIENCE: Fans of Yugi Yamada will likely enjoy this.
B
Last Updated: Jun 26, 2018 - 9:28