Comics / Manga / Yaoi Manga
Don't Blame Me Volume 1 by Yugi Yamada (Yaoi Manga)
By Leroy Douresseaux
Apr 10, 2008 - 8:45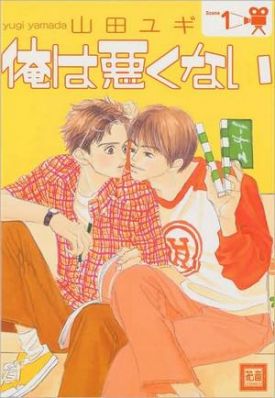 Thanks to barnesandnoble.com for the image.
TRANSLATION: Sachiko Sato
13-year-old Makoto Koizumi looks up to his cool, older cousin Toshiaki "Toshi" Kaji, for it was Toshi who taught him to go for your dream. Never be a boring adult was what Tohsi emphasized to his younger cousin. Makoto drops in on Toshi for a surprise visit and discovers that Toshi has given up on his dream of being a great filmmaker. Now, Cousin Toshi has turned into a boring adult, and Makoto won't have it!
Only a look back at Toshi's years as a wayward college student, living and loving with his small circle of friends will reveal why Toshi is now giving up his ambitions. We also learn the identity of the guy on the cover, who is wearing a bear suit.
THE LOWDOWN: For yaoi manga that is less about explicit sex between male characters and more about romance and drama, a reader wouldn't go wrong with Don't Blame Me, Vol. 1 by Yugi Yamada ( Laugh Under the Sun), a manga-ka who is a master of complex, passionate psychological dramas. Such relationship dramas rely on strong characters that will pique a reader's curiosity, and their lives must also capture the reader's imagination. Yamada does this with Don't Blame Me, and I can't wait for the next volume.
POSSIBLE AUDIENCE: Fans of yaoi ensemble dramas will find these engaging stories difficult not to read in one sitting.
A-
Last Updated: Jun 26, 2018 - 9:28