Dogs: Prelude Volume 0
By Leroy Douresseaux
Apr 13, 2009 - 15:22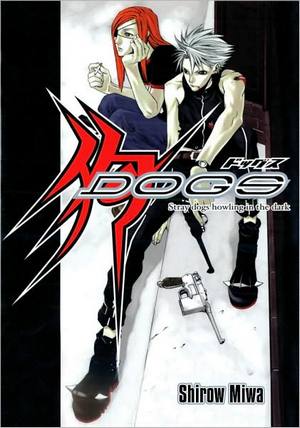 Cover art remains the same on the VIZ edition of Dogs: Prelude, but the title logo is changed.
Rated "M" for "Mature"
Dogs: Prelude introduces four interesting characters. Call them stray dogs. First is Mihai aka "Weepy Old Killer," a former hitman who is haunted by the ghosts of his victims, but who is most haunted by the death of his lover. Badou Nails aka "Gun Smoker" is an information broker and hired gun with a reckless nature and a goofball persona that belie his skill. Naota aka "Blade Maiden" is an amazingly skilled swordswoman who saw her mother and father cut down before her very eyes. Heine Rammsteiner aka "Stray Dog" is the mystery man who wears a metal collar bolted to his neck and who has a talent for violence.
These dogs are troubled by ghosts of the past; some of the ghosts are dead and some are alive. These dogs are driven by their desire for the truth, as they struggle with the secrets of the past. But these dogs still have to survive their very dangerous present.
THE LOWDOWN: A seinen manga (comics for adult men), Dogs: Prelude introduces the main characters and supporting cast of VIZ Media's upcoming series, Dogs: Bullets and Carnage by Shirow Miwa. Dogs: Prelude is a stylishly violent crime thriller in the vein of Asian film-influenced movies like Pulp Fiction and The Matrix. Miwa's art reflects that kind of elegance that visually snazzy violent manga needs. It has characters that dress well and wear their fancy duds well, and most of these characters sport top of the line hair styles. While stylish, Dogs: Prelude is not exactly empty. It's visually sharp and there is some heft behind each swing of this pretty blade.
POSSIBLE AUDIENCE: Fans of Garth Ennis' violent comics and/or the ultra-glam of violent anime will like Dogs: Prelude.
B+
Last Updated: Jun 26, 2018 - 9:28