Diehard Studios Publishes "Art Directing Mutant League"
By The Editor
June 29, 2009 - 07:59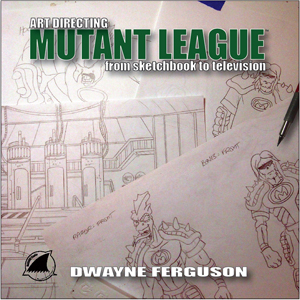 Art Directing Mutant League cover image.
DIEHARD Studio Release Mutant League Book
DIEHARD Studio has just released a brand new book, Art Directing Mutant League: from Sketchbook to Television. The 120-page book features never before seen artwork illustrated by Dwayne Ferguson, who served as the Art Director of the popular series.
The book also features humorous written commentary by Ferguson, who discusses the importance of design on elements such as backgrounds, props, uniforms and more.
Fans of the show will enjoy the tome, formatted in a fun 7.5 x 7.5 size that makes a great coffee table conversation book.
Ferguson is also the creator of the cult hit comic book series Hamster Vice and director of the action-packed short animated film Black Zero: Mercenary Ant. He is currently working with The Fresh Prince of Bel Air's Janet Hubert on the upcoming 3D animated short film "The Tell-tale Heart: Larynx Edition.
Art Directing Mutant League is available at www.diehardstudio.com.
Last Updated: May 19, 2020 - 12:25