Devil's Due and the Origin of Voltron
By The Editor
April 14, 2008 - 06:14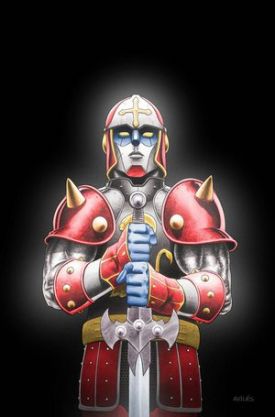 Volton #1, Cover B
DEVIL'S DUE TO TELL THE ORIGIN OF VOLTRON
New 5-issue miniseries 'Voltron: A Legend Forged' launching in July from Devil's Due Publishing
The pieces of Voltron's history will finally come together this July in a brand new 5-issue miniseries from Devil's Due Publishing. Voltron: A Legend Forged will bring the Voltron Force face to face with a spectacular quest, 1200 years into the past. Everything Voltron fans know about the iconic machine will be changed forever.
DDP President Josh Blaylock will write the series, taking the legend back into a fully imagined place in time, loaded with newly designed concepts by G.I. Joe: America's Elite artist Mike Bear. Issue #1 will also feature covers by Blaylock, Tim Seeley, Jenny Frison, and E.J. Su.
"As a longtime Voltron fan, this is exactly the kind of backstory I've always wanted to read, and I think it's going to turn a lot of heads," said Devil's Due President Josh Blaylock. "It's true to the characters and the Voltron universe, and plays with the fantasy elements of this magic/sci-fi hybrid more than ever before."
Voltron: A Legend Forged will ship monthly starting in July.
For more information, please visit www.devilsdue.net.
Last Updated: February 5, 2023 - 09:06