Detroit Metal City: Volume 2
By Leroy Douresseaux
Sep 18, 2009 - 19:41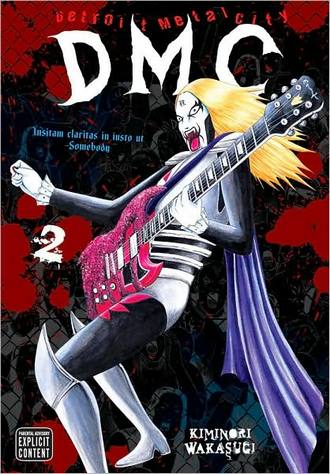 Detroit Metal City Volume 2 cover image is courtesy of barnesandnoble.com.
Rated "M" for "Mature"
The recent college graduate, Soichi Negishi, is a sweet-natured, well-mannered boy, who loves Swedish pop music, shopping in trendy places, and doing whatever's fashionable. But he leads a double life. Negishi is also Lord Johannes Krauser II, the front man and guitarist for the indie death metal band, Detroit Metal City. A power trio, DMC is growing in popularity every day, but Negishi wishes he could simply play his acoustic guitar and sing happy songs. Still, there's no denying that he when it comes to being a death metal god, Negishi is a natural.
As Detroit Metal City, Vol. 2 opens, the attention shifts momentarily to Keisuke Nashimoto. He is the mild-mannered guy who dresses in lingerie and allows Lord Krauser II to abuse him at DMC concerts as the "Capitalist Pig F**k." Now, Negishi wants to help the shy Keisuke to impress a young woman with whom Keisuke is in love. And Lord Krauser wants to do his part, too!
There's a new act close to supplanting Detroit Metal City as the rules of the underground music scene. It's a rapper named "Kiva," who claims to come from the rough streets of New York City, except that's not the truth. Kiva is really Susumu Kibayashi, a childhood friend of Negishi. DMC's fans and Kiva's fans hold pitch battles wherever they encounter each other. Now, it's time for Kiva and Lord Krauser to meet and settle this dispute, so has the evil lord met his match?
THE LOWDOWN: I previously compared Detroit Metal City to MTV's now-defunct Headbanger's Ball and the film, This is Spinal Tap. That is inadequate when trying to describe DMC, because it makes this series seem like a satire or even a parody of heavy metal music and its fans, which isn't exactly true. DMC is certainly funny – even outrageous, shocking, and over-the-top, but its depiction of a Japanese death metal scene, while humorous, is quite multi-layered in terms of comedy and drama.
What DMC creator Kiminori Wakasugi has in the main character Soichi Negishi is a hapless fool who cannot appreciate what he has, but pines for something more. He feels that what he has (his natural gift as a death metal personality) makes him a victim. What he thinks is that what he wants – to write melodious Europop – will make him happy once he gets it. He's the everyman, but placed in an unusual scenario, which Wakasugi executes with scatological genius. It's a world that scares Negishi and the readers, but it's too good a read to avoid.
POSSIBLE AUDIENCE: Readers that don't mind the quirky and the crude will like Detroit Metal City.
A
Last Updated: Jun 26, 2018 - 9:28