Dengeki Daisy: Volume 16 manga review
By Leroy Douresseaux
April 22, 2015 - 21:46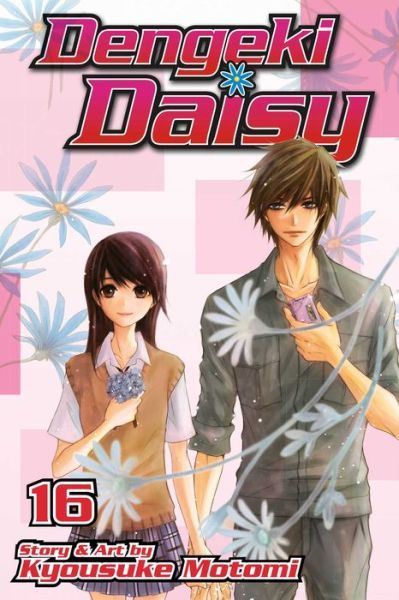 Dengeki Daisy Volume 16 cover image is courtesy of barnesnandnoble.
Follow me on
Twitter
.
Rated "T+" for "Older Teen"
Teru Kurebayshi
, an orphan, lost her beloved brother, Soichiro, but she is not alone. Teru exchanges messages with
DAISY
, a mysterious figure who can only be reached through a cell phone Teru's brother left her. Eventually, Teru learns that DAISY is
Tasuku Kurosaki
, a janitor who is always around when she needs him.
Shadowy government agents abducted Teru and took her to an uninhabited island. There, a trap is set to lure Kurosaki and their real target,
Akira
, a mathematical genius who is deemed a national security threat. Before the trio can escape, the island is detonated...
Dengeki Daisy

, Vol. 16
(Final Chapter) reveals how Teru, Kurosaki, and Akira escaped. Who helped them leave the island just in time? The source of one bit of assistance is obvious, but the second is a big surprise, and only Teru knows the savior's identity. Plus, what are they going to do with the rest of their lives, and what is Kurosaki's next big career move?
[This volume includes four bonus features and chapters and the short story, "No-Good Cupid."]
THE LOWDOWN:
The
Dengeki Daisy
manga comes to an end.
Dengeki Daisy Volume 16
brings the series to a close, although only one chapter in this volume is part of the main story. The rest is bonus material, which includes creator,
Kyousuke Motomi
's debut manga, the short story "No-Good Cupid."
Vol. 16 is a bit anti-climatic, but it has a feel-good ending. I am so used to on-going American comic books, which don't end so much as they restart, that I am still adjusting to the fact that manga end. They are finite comics narratives. In my final analysis of
Dengeki Daisy
, I would recommend it to new readers, because it is different. It is odd in that it is an off-kilter high school shojo romance and in that it also has a dark side in which death plays a prominent part. In fact, romance in bloom and the specter of death are equal partners in
Dengeki Daisy
.
POSSIBLE AUDIENCE:
Readers looking for something different in shojo romantic drama will want to try the Shojo Beat title,
Dengeki Daisy
.
Last Updated: August 31, 2023 - 08:12