Dengeki Daisy: Volume 14 manga review
By Leroy Douresseaux
January 3, 2015 - 20:04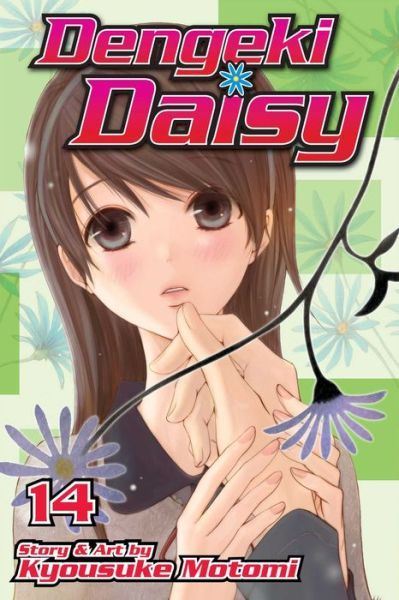 Dengeki Daisy: Volume 14 cover image is courtesy of barnesandnoble.com.
Follow me on
Twitter
.
Rated "T+" for "Older Teen"
Teru Kurebayshi
is an orphan. She also lost her beloved brother, Soichiro. She is not alone, however. Teru exchanges messages with
DAISY
, a mysterious figure who can only be reached through a cell phone Teru's brother left her. Eventually, Teru learns that DAISY is
Tasuku Kurosaki
, a janitor who is always around when she needs him.
Dengeki Daisy

, Vol. 14
(Chapters 65 to 69) opens in the aftermath of Teru and Kurosaki finally getting their hands on
M's Last Testament
. Now, with their friends, they getting to view the disc containing what
Professor Hideo Midorikawa
(M) left behind. The "testament," however, is not some secret computer code.
It is actually a detailed plan to kill someone, and the identity of that someone is shocking. Now, Kurosaki and his friends want to protect the target, but Teru cannot bring herself to feel sympathy for the target. Will her feelings come between her and Kurosaki? Also, Kurosaki plans a special birthday date for Teru's birthday.
THE LOWDOWN:
The
Dengeki Daisy
manga is a shojo romance. It's also a computer and conspiracy thriller. Sometimes, the romance and the conspiracy mix like oil and water, but series creator,
Kyousuke Motomi
, focuses on one at time – for the most part.
Dengeki Daisy Volume 14
proves that they can co-exist, and truthfully, I find the romance and the thrills equally enjoyable. Kurosaki is of age, and Teru is still a minor. How is that going to work now that their romance is only intensifying? Plus, there are plenty of black hats and bad guys surrounding the mystery of M's Last Testament.
Dengeki Daisy
is like a soap opera – tune in next time for the next shocking turn or twist of fate.
POSSIBLE AUDIENCE:
Readers looking for something different in shojo romantic drama will want to try the Shojo Beat title,
Dengeki Daisy
.
Last Updated: August 31, 2023 - 08:12